Rick Perry's Mother: 'I Don't Always Agree With Him,' But He 'Wants What's Best For America'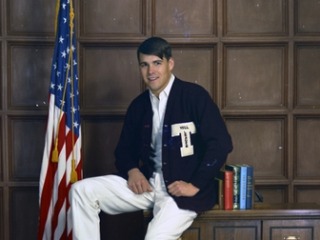 In an interview with The Dallas Morning News, the parents of Texas governor Rick Perry say they support and endorse their son, fiercely… even if his mother, Amelia Perry, doesn't always agree with him 100 percent.
"I may be a little biased," she admitted, "but I don't think he's perfect and I don't always agree with him. But he's smarter than I am and he wants what's best for America." That straight forward attitude seems typical for Mrs. Perry, who, the report shares, was not afraid to confront a pastor who preached that "all politicians lie."
This woman is kind of great:
The Rev. John Erwin stood in the pulpit of the historic church and offered what many may consider a sad but safe observation about the world — politicians lie. That's when 82-year-old Amelia Perry's voice rose above the sermon.

"John, my son is the governor of the great state of Texas," she said. "And he is not a liar." The pastor paused briefly, then galloped on with the message. A few minutes later, he repeated the fightin' words — politicians lie. This time, Amelia Perry stood from her pew.

"I told you once," she said, her voice icy. "My son is not a liar."

A moment of uncomfortable silence was followed by waves of laughter.
RELATED: Rick Perry's Wife: My Husband Is 'Being Brutalized' By Opponents 'Because Of His Faith'
As testament to their son's will and tenacity, the Perrys also recounted an anecdote from his teen years. As a teen, Perry was gifted with a horse (even though he'd asked for a drum kit and a motorcycle) which promptly kicked and stomped the young man, causing his arm to snap with such force that bone protruded from his skin. Doctors weren't sure if Perry's arm would ever work perfectly again after the accident but, with time and an intense devotion to his physical therapy sessions, Perry eventually went on to live his dream of becoming a pilot for the military.
What's more, his parents added (with love, we're sure), their somewhat scrawny teen son managed to gain weight and grow a few inches following his accident. All's well that ends well.
Have a tip we should know? tips@mediaite.com