Rick Perry's Theft of Toyota from CA Is Not a Triumph of the Market
McMurry: Rick Perry's Theft of Toyota from CA Is Not a Triumph of the Market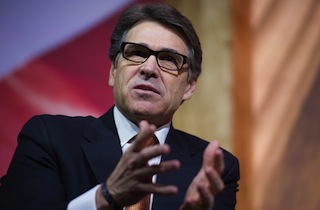 These two paragraphs appeared almost right next to each other in an article from yesterday's Wall Street Journal about Toyota's relocation from Torrance, CA* to Texas:
"It is the biggest win we've had in a decade," Texas Gov. Rick Perry said in an interview on Monday, adding that "10 years of tax, regulatory, legal and educational policies have now put Texas at the top of the heap."
And:
Texas offered Toyota $40 million to move to the Lone Star State, part of a Texas Enterprise Fund incentive program run out of the governor's office. It is one of the largest incentives handed out in the decade-old program–and costs more per job created than any other large award. Last year, Texas spent about $6,800 to lure each of 1,700 Chevron Corp. positions to Houston and $5,800 for each of 3,600 Apple Inc. jobs shifted to Austin. Texas is paying $10,000 per job for the Toyota relocation.
Huh. So either Texas' lax regulations and low taxes (which also help keep it near the bottom of the pile for poverty, health, children's health, uninsured people, education spending, and other metrics) successfully lured an auto company away from another state, or a $40 million bribe did. Either way.
Perry's fans are trumpeting this swipe as the triumph of the market, but that assumes an isolation between states that doesn't exist. A hit to one state's economy cancels out a boon to another's, especially as relocated jobs tend to shed their wages and benefits during the move. This is a race to the bottom, and Texas is paying an increasing amount to be the floor.
Sartre once said a victory described in detail is indistinguishable from a defeat. How much detail does it take to turn this Toyota grab from one to the other?
* Torrance is best known as the town where Mark Wahlberg's character opens his carpet store at the end of Three Kings.
[Image via Christopher Halloran / Shutterstock.com]
——
>> Follow Evan McMurry (@evanmcmurry) on Twitter
Have a tip we should know? tips@mediaite.com