Rifleman Arrested at D.C. Pizzeria at the Center of Fake News Story #PizzaGate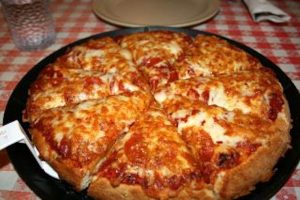 A gunman caused panic at a pizzeria today in Washington D.C., and it just so happens that the restaurant in question has been plagued by fake news and online conspiracy theories.
A North Carolina man was arrested on Sunday when he walked into Comet Ping Pong and started firing an assault rifle. In a statement picked up by CNN, Washington's Metropolitan Police Department said no one was injured, thought the suspect told them that he went to the joint for the purpose of investigating #PizzaGate.
DC police statement on incident at Comet Pizza: pic.twitter.com/AyuRUyEXW6

— Jake Tapper (@jaketapper) December 5, 2016
#Pizzagate is an anti-Hillary Clinton conspiracy theory that emerged from John Podesta's hacked emails released by WikiLeaks. Conspiracists on Reddit and 4Chan looked at mentions of pizza in the emails, eventually insisting it was part of a code proving Clinton and Podesta were involved in a child exploitation and sex operation that took place in Comet Ping Pong's basement.
The story has been circulated by InfoWars, the son of retired general Michael Flynn, and various pro-Donald Trump online forums. While there is no proof that the story is true (Comet Ping Pong doesn't even have a basement), multiple reports say that the restaurant has received threats and harassment as the story kept spreading over the last few days. D.C. Police have said that the restaurant is not under investigation.
Three weapons have been recovered from the scene of the crime, and suspect Edgar Maddison Welch will face charges of assault with a deadly weapon.
Watch a report on the story in the video above, via Washington Post.
[Image via Wikimedia Commons/Navin Rajagopalan]
— —
>> Follow Ken Meyer (@KenMeyer91) on Twitter
Have a tip we should know? tips@mediaite.com