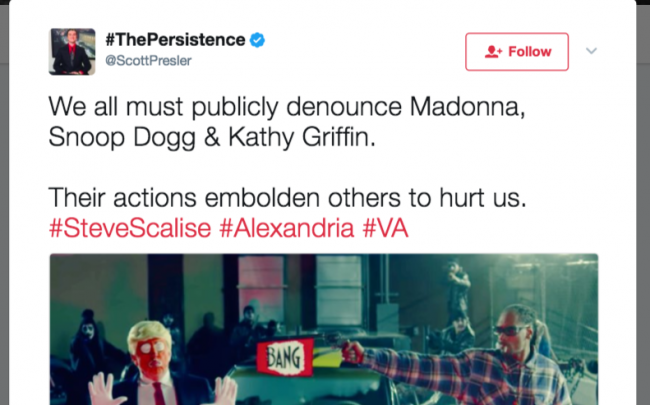 A congressional baseball practice in Alexandria, Virginia was shattered Wednesday morning, when a gunman opened fire on Republican Senators and Congressmen wounding GOP Majority Whip Steve Scalise, an aide, and two capitol police officers.
While the details are still unfolding, multiple eyewitnesses are reporting than up to 60 shots were fired by a gunman armed with a high-powered rifle. Senator Rand Paul (R-KY) said that only the presence of Capitol Police prevented a massacre.
The targeted group seems to have been comprised exclusively of Republican lawmakers, and while that is definitely suspicious and suggests it was a targeted attack, it didn't take long for right wing Twitter to place the blame on Democrats, leftists, and even GOP boogymen like Snoop Dogg and Kathy Griffin.
The media has been signalling to crazies that Trump is illegitimate for months. This was entirely predictable. Blood on their hands.

— Paul Joseph Watson (@PrisonPlanet) June 14, 2017
We all must publicly denounce Madonna, Snoop Dogg & Kathy Griffin.

Their actions embolden others to hurt us.#SteveScalise #Alexandria #VA pic.twitter.com/Sx9KoqJdFJ

— #ThePersistence (@ScottPresler) June 14, 2017
Flashback: Professor says Republicans "should be lined up and shot."https://t.co/JeDcUTqfTU#Alexandria #GOPShooting pic.twitter.com/XrvV1caGUF

— Michelle Malkin (@michellemalkin) June 14, 2017
Democrats foment absolute hatred aided by the media and now they're getting exactly what they hoped for in this domestic terrorist attack https://t.co/kd8bnw7Tzp

— Nick Short (@PoliticalShort) June 14, 2017
That makes this a terrorist attack

Every member of #The Resistance Fomenting & calling for violence

Now has blood on their hands https://t.co/1ZvUXKndVL

— Jim Hanson (@Uncle_Jimbo) June 14, 2017
Between sick Kathy Griffin, plays portraying Trump's assassination and Antifa violence, is this surprising?

— Bill Mitchell (@mitchellvii) June 14, 2017
After Kathy Griffin and Julius Ceasar, the Russia conspiracy theory, the Left and MSM inspired today's terrorist attack #Alexandria

— Jack Posobiec ?? (@JackPosobiec) June 14, 2017
We DO know that repeated Antifa assaults have gone unreported. We DO know of the left's culture of violence. It has to stop. Now. https://t.co/yUIeCHqIfB

— Steven Crowder (@scrowder) June 14, 2017
Tomorrow you'll be back to palling around with left wing extremists that incite violence against political opponents. https://t.co/iOfhIAewW5

— Arthur Schwartz (@ArthurSchwartz) June 14, 2017
Armed men stopped the political murder of Republicans today.
Exercise your right to keep and bear arms.#Resist leftist terrorism. ?

— Kurt Schlichter (@KurtSchlichter) June 14, 2017
People shooting at Republicans now. An act of violence by the left. Sadly unsurprising, given their violent tendencies. https://t.co/r4iPmizUMC

— Mike Beasley (@MikeBeas) June 14, 2017
The Dems have so demonized the Republicans an have stirred the pot today Reps were shot! The Dems should be ashamed of themselves. Insanity

— Frank Stallone (@Stallone) June 14, 2017
Have a tip we should know? [email protected]