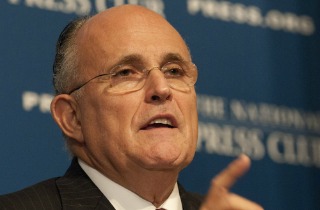 RNC Communications Director Sean Spicer released a statement Tuesday accusing the "media" of a liberal bias in its blanket coverage of Rudy Giuliani's privately-made remark last week that President Barack Obama "doesn't love America."
Spicer alleged that Giuliani's comment received six times the coverage of various Democratic stories, including questions about the Clinton Foundations foreign donors and reports that DNC Chair Debbie Wasserman-Schultz (D-FL) planned to paint President Barack Obama as anti-semitic and anti-woman if he tried to replace her.
"Coverage has been fueled by reporters grasping for new angles or asking any Republican in range of a microphone to respond to his comments and other unrelated questions," Spicer wrote. (This included Fox News.) "Yet while the media forced potential Republican presidential candidates to weigh in on that story, they did not do the same for potential Democrat candidates when it came to any of their party's controversies of the week."
RELATED: Chuck Todd 'Hates' the Giuliani Story: 'It Brought Out the Worst in the Press'
"This is all just par for the course," he wrote. "A Republican former office holder says something, and they think every Republican must answer for it. A current Democrat party leader does and says something, and it's no one else's problem."
"There's a pattern here, and it's time to treat the parties equally," Spicer concluded. "I look forward to Hillary Clinton and other potential 2016 Democrat contenders to have to answer for the actions of their fellow Democrats."
Rumors that there's no such thing as "the media" went unconfirmed at press time. Read the whole dealie here, via the RNC.
[Image via Shutterstock.com]
——
>> Follow Evan McMurry (@evanmcmurry) on Twitter
Have a tip we should know? tips@mediaite.com