RNC Committeewoman Says 'Amen' to Tweet Stating John McCain Should 'Just F*cking Die Already'
Nevada Republican national committeewoman Diana Orrock sent out the following tweet in response to a piece about John McCain titled "Please Just Fucking Die Already."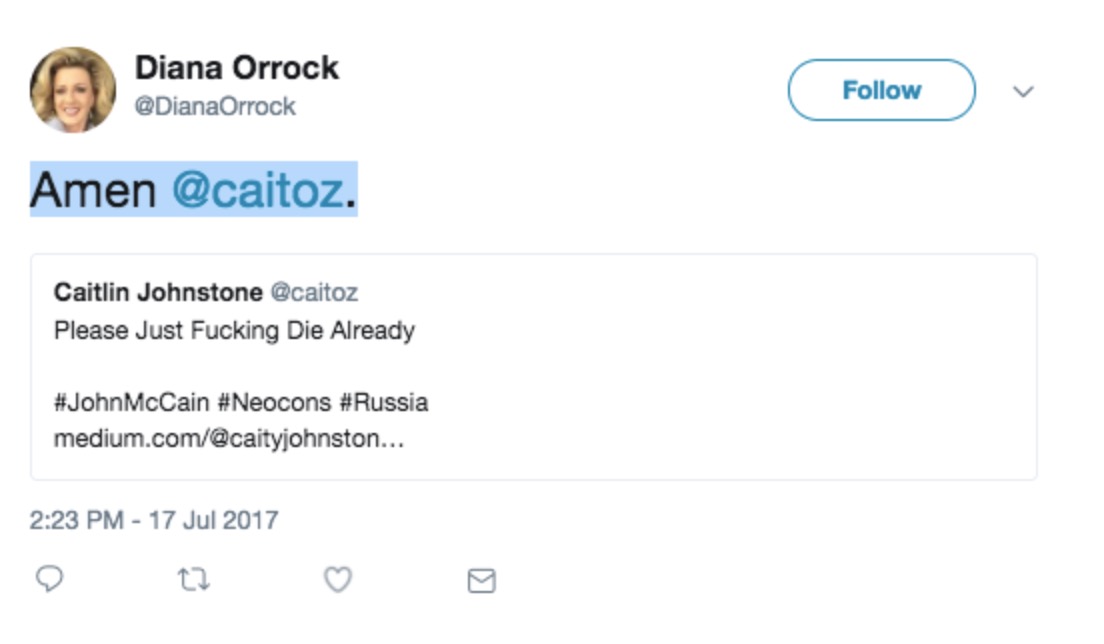 Orrock's tweet has been deleted, but The Washington Examiner preserved it in the screenshot above.
On Friday, McCain underwent surgery to remove a blood cot "above his left eye." Indications suggest that his condition is more serious than previously thought, and it could further delay the vote on the Senate's bill to repeal Obamacare.
The current health care bill is in peril since it no longer has the GOP support it needs to pass in a vote.
CNN reached out to Orrock, who told them her response of "amen" was not meant to suggest that she wants McCain to die. Orrock says it was meant to state she agrees with the article in the tweet, and that McCain should no longer serve on the U.S. Senate.
CNN notes that article writer quite clearly wants McCain to die, as evidenced by this passage:
"If you're waiting for the part where I say I'm just kidding and would never wish death on anybody, please allow me to make myself clear: I sincerely, genuinely hope that Arizona Senator John McCain's heart stops beating, and that he is subsequently declared dead by qualified medical professionals very soon."
RNC spokesman Ryan Mahoney condemned Orrock's tweet, calling it "extremely inappropriate" as he extended well wishes to McCain during his recovery.
[Image via Washington Examiner/screengrab]
— —
>> Follow Ken Meyer (@KenMeyer91) on Twitter
Have a tip we should know? tips@mediaite.com