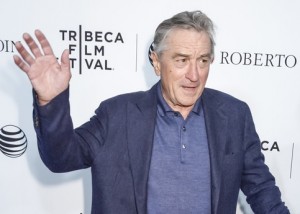 Actor Robert De Niro reportedly walked out of an interview with the Radio Times after reporter Emma Brockes' line of questioning made a "negative inference" about the Tribeca Film Festival.
The awkward exchange between De Niro and Brockes began when the latter asked the former about his acting method. Specifically, she wanted to know how the veteran actor resists the urge to go into "autopilot" while he's working. Brockes also noted that Tribeca, which De Niro helped create, was being run by banks:
De Niro, 72, asked Brockes to pause her recorder. She wrote in the magazine: "He then pops up out of his chair, starts pacing madly and says he's cutting short the interview because of the "negative inference" of what I just said.

"'What, about the bankers?!' I am amazed. 'All the way through,' says De Niro. 'All the way through. Negative inference.' 'Er, like where else?' 'The whole way through and I'm not doing it. I'm not doing it, darling.'"
When Brockes told De Niro that he was being "very condescending," the actor retorted: "Oh, you think 'darling' is condescending?"
In a statement to The Independent, Brockes explained:
"I have sympathy with De Niro because nobody wants to be there for these choreographed junket interviews. I was expecting him to be a little quiet but the combination of hostility and condescension irritated me and I ended up losing my cool. I certainly didn't go in looking for an argument but when it happened I did think 'at least he's finally saying something.'"
De Niro, who is currently promoting his film The Intern with co-star Anne Hathaway, is well known among journalists for being a difficult interviewee. As The Huffington Post notes, former CNN personality Piers Morgan once referred to him as "the hardest star to interview," and claimed he "silently begged" the star to answer his questions.
[h/t The Huffington Post]
[Image via Shutterstock.com]
— —
>> Follow Andrew Husband (@AndrewHusband) on Twitter
Have a tip we should know? [email protected]