Blago, Ethics Panelist: Hecklers, 'Segregationists' And A Little Bit Of Van Jones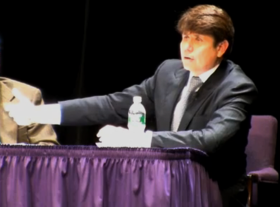 The big day for Rod Blagojevich's dubiously categorized "ethics" lecture at Northwestern University has come and gone and, judging from the footage college's newspaper has released, it lived up to the hype. America's fanciest gubernatorial coif and its disgraced owner proved he still has some tricks up his sleeve. Upon being showered with jeers for unleashing some vintage Blago on Senators Dick Durbin and Harry Reid – calling them "segregationist governors" for opposing his appointment to succeed Barack Obama in the Senate – Blagojevich abandoned his own typically fiery demeanor to channel a bit of Van Jones: "I've got nothing but love in my heart for you."
After singing the praises of renowned lyrical bard Roland Burris, who Blagojevich appointed to assume the Senate seat vacated by Barack Obama, the former governor went on the attack against those who initially refused to seat Burris in the Senate due to their sneaking suspicion that Burris had engaged in some sort of illegal exchange of benefits with Blagojevich for the position. Blagojevich went for the obvious reason why they would ever suspect of politicians with as immaculate a moral record as them: Burris is black (and also possibly because Blagojevich is "blacker than Barack Obama," though he did not cite that evidence this time around):
The great irony of course is, in the age of Obama, my fellow Democrats, and your Senator Dick Durbin, and Harry Reid, are keeping him out of the U.S. Senate, like they were some segregationist governors in Mississippi and Arkansas.
Blagojevich's shamelessness at playing the race card is nothing new but just when his repertoire appears to become stale, he turns the tables and unexpectedly tones down the entire operation. After some hearty booing from the crowd, one of the hecklers was courageous enough to yell "shame!", which Blagojevich immediately assumed was directed at Burris. When the heckler confirmed his jeering was, in fact, directed at the former governor, Blagojevich replied "I've got nothing but love in my heart for you."
Slightly less menacing than that Van Jones version of tough love he used on Glenn Beck last week ("I love you and there's nothing you can do about it"), but that's precisely why it works. Just when Blagojevich has his audience conditioned to expect nothing less than delusional outrage, he pulls out a new weapon: an olive branch.
Video of the Blagojevich lecture courtesy The Daily Northwestern (via TPM):

Have a tip we should know? tips@mediaite.com