Rod Blagojevich Promises To Return 'Riding High' To Politics After Corruption Trial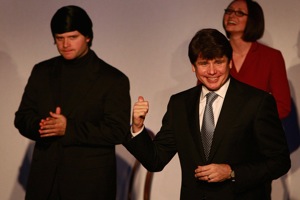 Chicago-area talk radio host Rod Blagojevich is planning to dip his feet in the frigid water of Illinois politics sometime in the near future, he announced on his weekly WLS AM 890 show yesterday. Unlike most Chicago-area radio personalities, Blagojevich has a bit of a hurdle standing in between himself and winning any election—his previous career as governor of Illinois, and the corruption trial that resulted when an FBI investigation found evidence that he was trying to trade a Senate appointment for profit.
Yes, poetry-loving Rod Blagojevich, Time Magazine's "#2 All-Time Elvis Impersonator" Rod Blagojevich, "blacker than Barack Obama" Rod Blagojevich—that Rod Blagojevich—still believes he will have a political career. Apparently no one told him that the Illinois Assembly voted unanimously to permanently ban him from holding any public office in their state.
The wacky statement came about while Blagojevich answered a question from a caller, "Sam," asking whether he would testify. Blagojevich assured him that he was "eager to do it and I'm going to do it," because of his successes during his tenure as governor:
"I'm going to testify and get the truth out and show the people what I was as governor, how I cared about them, how I fought corrupt forces in Illinois for the people, how I got bloodied and battered for you and others in Illinois, for the people. And Sam, when I'm vindicated—here's where you're wrong — I'll be back in politics, I'll be riding high because I will show that I'm one honest person fighting against a corrupt system. You'll see, Sam. And then you'll call me and say, "You know what? I'm going to sign up and knock on doors for you."
This isn't the first time that post-arrest Blagojevich has hinted at a second career, but previous veiled suggestions that he's not "ruling myself out" pale in comparison to the certainty with which he says he knows he will be "back in politics," "riding high" once the trial is over. The whole endeavor also seems futile when Blagojevich has proven capable in other lucrative careers, like talk radio and reality TV.
Audio of the call on Blagojevich's show, courtesy Chicago Tribune, below:

Have a tip we should know? tips@mediaite.com