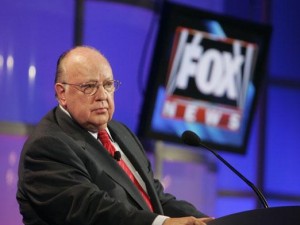 Fox News head Roger Ailes referred New York Times reporters as "lying scum" (later regretting his language). On Tuesday, New York University journalism professor Jay Rosen reported that the story Ailes based his characterization on is untrue — that Ailes' assertion of victimization wasn't based on something that actually happened.
RELATED: Roger Ailes Regrets Calling NYT Reporters 'Lying Scum'
Ailes made the comments during a speech at Ohio University, during which he called the paper a "cesspool" of bias. As proof, he cited a 2011 example, when documents showed that publishing executive Judith Regan accused Ailes of urging her to lie to federal investigators. In his speech, Ailes said:
What if you got up on a Thursday morning and the front page of The New York Times said you were going to be indicted on Monday. How would you feel about that? Let's assume you hadn't done anything and don't know anything about it. That happened to me. I got up on a Thursday morning and it said Roger will be indicted on Monday. … And do you know what they used for their source? They said somebody was overheard in the waiting room of a Barbados airport saying it. That was their source for that story.
His interviewer, former Washington Post ombudsman Andy Alexander, followed up:
Andy Alexander: Did you call them on it?

Roger Ailes: No.

Andy Alexander: Why not?

Roger Ailes: Because they're a bunch of lying scum and they're not going to do anything about it. They did it on purpose, they did it deliberately and they didn't have anything. I'm sure they couldn't produce the guy in the Barbados airport.
It seems the Times never reported that Ailes was going to be indicted. In the same vein, Times' Brian Stelter later tweeted, "The Times never reported that." The Times story covered a taped conversation between Ailes and Regan, adding:
"Depending on the specifics, the taped conversation could possibly rise to the level of conspiring to lie to federal officials, a federal crime, but prosecutors rarely pursue such cases, said Daniel C. Richman, a Columbia University law professor and a former federal prosecutor."
Ailes later said he regretted the language he used in describing the paper — and that respects new executive editor Jill Abramson.
Have a tip we should know? tips@mediaite.com