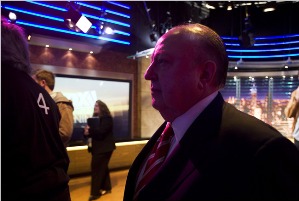 Last month we named Roger Ailes as #1 on our Mediaite 50, ranking the top innovators and influencers in media
And now it looks like the New York Times agrees. David Carr and Tim Arango give the Fox News Chairman the full Sunday profile treatment today, looking at all aspects of the man who has built the most successful news channel of the last decade.
There are several aspects of this lengthy, above-the-fold story that are interesting, considering Ailes has generally been one of the most protected members of the media (in large part by FNC PR), rarely granting interviews to anyone (let alone the, gasp, New York Times). But what he got here was an almost entirely positive portrayal. It's hard to argue with the numbers. "Fox News is believed to make more money than CNN, MSNBC and the evening newscasts of NBC, ABC and CBS combined," writes Carr and Arango. "The division is on track to achieve $700 million in operating profit this year, according to analyst estimates that Mr. Ailes does not dispute."
But Ailes isn't standing still. "I built this business to throw off a billion dollars in profit," he said. "That was the goal from Day 1. In my own mind." And Ailes is paid handsomely for what he does – making more than his boss, Rupert Murdoch last year. Michael Nathanson, an analyst at Sanford C. Bernstein & Company, said "Fox News is 'probably the single most important asset at News Corporation.'"
There were several other media members and politicians interviewed for the piece, from all ends of the political spectrum. CNN contributor (and longtime political adviser) David Gergen said Ailes is "one of the most creative talents of his generation," and his CNN colleague James Carville had this description Ailes and the rest of the Fox News team are sure to love: "In terms of the news business, the cable television business, and the political business, there is him and then there is everybody else."
But there was also this, from Elisabeth Murdoch's husband Matthew Freud. And it signals some potential bad blood between Ailes and elements of the Murdoch family. "I am by no means alone within the family or the company in being ashamed and sickened by Roger Ailes's horrendous and sustained disregard of the journalistic standards that News Corporation, its founder and every other global media business aspires to," he said.
A News Corp. spokesperson tells Mediaite: "Matthew Freud speaks for himself only and his views in no way reflect those of Rupert Murdoch who is proud of Roger Ailes and Fox News."
A few more notes:
• The fact that Carr and Arango wrote this piece, but more specifically got access to Ailes, is surprising. Carr famously wrote the exposé of the Fox News public relations department in July 2008, and in that same piece described the alleged smear campaign by FNC PR waged against a fellow Times reporter. That reporter is widely believed to be Arango. The byline adds an interesting element to the story.
• There's the quote from Rupert Murdoch's son-in-law, but the only appearance of Murdoch himself in the piece is this, written this exact, and specific, way:
Mr. Murdoch, in a statement relayed by a spokesman, said: "I'm proud of Fox News and what it is accomplishing, and I am grateful to Roger and his team for creating such a great asset for News Corporation."
A statement relayed by a spokesman. That's it. It makes the lead anecdote that much more interesting. Carr and Arango report Ailes "threatened to quit" after he heard Murdoch was considering an endorsement of then Sen. Barack Obama in the New York Post and he was "outraged" by a Vanity Fair article that had Murdoch speaking unfavorably of Fox News. So what happened? He was given a new contract and the Post endorsed John McCain.
• And finally, Roger Ailes will fight terrorists if he has to. "I've got a bad leg, I'm a little overweight, so I can't run fast, but I will fight," he said. "We had 3,000 dead people a couple miles from here. I knew that any communications company could be a target."
(image by Mark Lennihan/Associated Press)
Note: Small edits have been made to this post since publication.
Have a tip we should know? tips@mediaite.com