Roger Ailes Reportedly Furious At Palin For Not Declaring Presidential Plans On FNC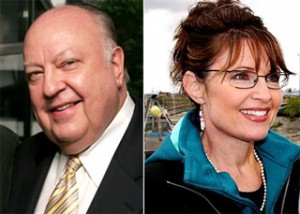 Fox News chief Roger Ailes is furious at Sarah Palin, according to Gabriel Sherman of New York Magazine, because she announced that she wouldn't be running for President in 2012 on Mark Levin's show, and not on Fox News Channel. "Ailes was so mad," Sherman reports, "he considered pulling her off the air entirely until her $1 million annual contract expires in 2013."
At the heart of the disappointment is the fact that Palin had been a contributor to Fox News for two years, and her announcement would have been a ratings coup for FNC. But after Fox hired Karl Rove, Palin's nemesis who reportedly was not very nice to her ("From day one, he hasn't been very nice,' a Palin adviser tells Sherman), she decided to make the announcement on Levin's show, as Levin is a Palin loyalist. A furious Ailes then came up with the idea of "benching " Palin — paying her but not putting her on air. The move doesn't seem so crazy in light of Palin's inability to boost ratings. Says Sherman:
Ailes, who told Newsweek that he hired Palin when she was "hot," clearly hoped she would boost ratings. But beyond her prime-time commentary, Palin hasn't turned into the television asset Ailes had hoped. Palin's contract is up in 2013 and it's unclear what the current fracas will mean for her future on Fox News.
Sherman does suggest that Palin has one card left in her deck, now that the, "will she or won't she run," question is up: her endorsement of a GOP candidate. And when she decides to endorse someone in this field, Sherman says, she had better do it on Fox News. Because for as much as people like to paint Ailes as a string-pulling villain, he has a right to be angry here — he paid Palin a boatload of money, and she should have had the decency to make the announcement on the network that is giving her a soapbox on which to stand.
Read the entire report at NY Mag.
Have a tip we should know? tips@mediaite.com