Roger Stone 'Confirms' Rafael Cruz Was Tied to JFK in the Most Roger Stone Way Imaginable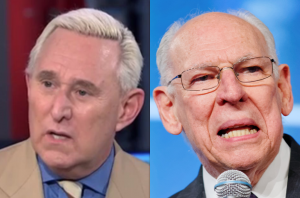 Noted "conspiracy analyst" and fervent Donald Trump supporter Roger Stone, who is basically a walking National Enquirer headline all his own, appeared on AM 970 The Answer Wednesday morning to discuss Trump's dominant Indiana win with host Joe Piscopo. Stone is a regular guest on the program, and after accusations last month that he planted the Enquirer story about Ted Cruz's marital infidelities, the logical follow-up was to ask about yesterday's bombshell: that Rafael Cruz, the father of the Texas Senator, was linked to Lee Harvey Oswald and complicit in the assassination of President John F. Kennedy.
The story first appeared on the cover of the tabloid, and Donald Trump gave it new life during an unchallenged interview Tuesday morning on Fox & Friends.
Piscopo cornered Stone on the story: "Respectfully I ask you this Roger, did you plant that story in the National Enquirer? Can I ask you that?"
"It is not," Stone responded, noting that just last night he had a conversation with Judyth Vary Baker, the woman who has long claimed to be Oswald's secret lover (this notion has been challenged many times over; in 2011 HuffPo wrote of Baker's claim, "This makes no sense whatsoever."). According to Stone, Baker, "…confirmed that [Raphael Cruz] was in New Orleans, [and] knew he was an associate of Lee Harvey Oswald."
The claim and connection is dubious at best, stemming from one noted conspiracy lover as told to another. But then Stone turned to a story that is just about the most Roger Stone way of possibly conveying information. He told Piscopo:
STONE: "Here's another one for you, because I went over to the sheriff's department last night. Take a computer analysis of the photo, the facial aspects of the photo, and Rafael Cruz's photo today, it's a perfect match."

PISCOPO: "Did you check that? You went down to the sheriff's department last night? And you checked that out?"

STONE: "I talked to a guy yesterday morning and I asked him to do it. And, uhm, I think it's, I think it's Rafael Cruz."
So there you have it folks, straight from Roger Stone's mouth: I talked to a guy. For Stone, who was once described by The Weekly Standard as the, "boastful black prince of Republican sleaze," this sort of ironclad logic is basically as reputable as an official report from the Associated Press. Donald Trump is clearly moving on in the Presidential contest, which is a good thing for those interested in eagerly listening to the next batch of campaign cockamine conspiracies. As long as Stone has his impressive short list of "guys" on the corner, rest assured he'll be "reporting" on some hilarious hard facts for the rest of the 2016 cycle.
The exchange begins around the 5:00 minute mark of the above interview from 970 AM The Answer.
—
J.D. Durkin (@jiveDurkey) is an editorial producer and columnist at Mediaite.
[images via Wikipedia Commons]
This is an opinion piece. The views expressed in this article are those of just the author.