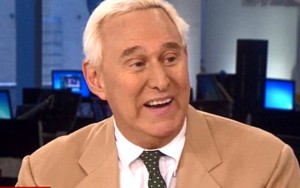 In a podcast interview, former Trump campaign advisor Roger Stone defended Donald Trump's frequent interviews and conversations with conspiracy theorist and InfoWars founder Alex Jones, calling Jones more credible than CNN.
Stone took credit on The Jamie Weinstein Show for introducing Trump to Jones. "They've had a couple conversations. Jones has been a very active and vocal supporter," he said.
"A lot of people raise, is that appropriate for Donald Trump to talk to someone like Alex Jones? He's a 9/11 Truther, he claimed that the Sandy Hook Massacre was a hoax," pointed out host Jamie Weinstein.
Stone denied Jones ever made those claims [Editor's note: He did], but said it didn't matter even if he had. "When you go on with [CNN host] Wolf Blitzer does that mean that you and Wolf agree on everything?" Stone asked.
Listen below, starting at 40:18.

"Do you really think that Infowars is as legitimate as CNN?" asked Weinstein.
Stone responded that "without any question" InfoWars was as legitimate. "It's beating the shit out of [CNN] in numbers. This is about audience. There are more people watching InfoWars, live-streaming on Facebook and on podcasts, than are watching CNN. Frankly, CNN is more biased than Infowars."
"So no, I'm sorry. Infowars, far more credible than CNN," he concluded.
It's worth noting that Stone has some history with CNN. Once a frequent guest, he was banned from the network once it came to light that he had launched racially-charged attacks on CNN contributors on Twitter. In his interview with Weinstein, Stone claimed he was actually banned "because I won't stop talking about Bill Clinton as a rapist."
[Image via screengrab]
—
>>Follow Alex Griswold (@HashtagGriswold) on Twitter
Have a tip we should know? tips@mediaite.com