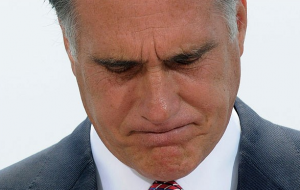 In a wide-ranging interview with Mitt Romney and his wife Ann, Parade magazine asked the Republican presidential candidate whether he is an emotional person. Romney responded by contrasting himself against a fellow prominent Republican known for shedding a few tears:
Do you cry?
AR: I do.

Do you, Governor?
MR: I'm emotional. I don't show it quite as clearly as John Boehner, but I'm an emotional person. There is a, I don't know, a societal norm that if you're running for office, you can't be emotional, and perhaps I bow to that too often.
Daaaamn, Roms!
Ann had actually spoken with CNN's Piers Morgan fairly recently about what makes her husband get a "tear in his eye."
Speaking of crying (and one of today's bigger news arcs: jokes), Romney gave a funny quote about tithing when responding to a question about his religion:
Let's talk for a moment about your faith. How has tithing [the Mormon practice of giving 10 percent of one's income to the church] shaped your view of how we treat each other?
AR: I love tithing. When Mitt and I give that check, I actually cry.
MR: So do I, but for a different reason.
And speaking of tithing… Parade asked the Romneys whether tithing constitutes a form of socialism. Romney replied by noting that, "I chuckle when I hear people say, 'Oh, they don't want any government.' Of course we want government! But it is government to encourage the life, liberty, and pursuit of happiness of its citizens, as opposed to direct the course of their living."
h/t Parade
Have a tip we should know? tips@mediaite.com