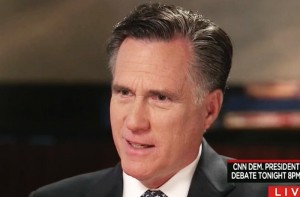 After parachuting into the 2016 Republican presidential primary race to try (and fail) to blunt Donald Trump's momentum going into the first "Super Tuesday" contests, former Republican presidential nominee Mitt Romney has rolled out the big Nerf cannon on Trump. In what isn't quite an endorsement, Romney posted on Facebook Friday that in Utah's upcoming caucuses, he will be voting for Senator Ted Cruz (and you should too!).
There are some subtle clues, aside from the missing magic "e"-word, that Romney's support isn't such a vote of confidence in Cruz (emphasis mine):
This week, in the Utah nominating caucus, I will vote for Senator Ted Cruz.

Today, there is a contest between Trumpism and Republicanism. Through the calculated statements of its leader, Trumpism has become associated with racism, misogyny, bigotry, xenophobia, vulgarity and, most recently, threats and violence. I am repulsed by each and every one of these.

The only path that remains to nominate a Republican rather than Mr. Trump is to have an open convention. At this stage, the only way we can reach an open convention is for Senator Cruz to be successful in as many of the remaining nominating elections as possible.

I like Governor John Kasich. I have campaigned with him. He has a solid record as governor. I would have voted for him in Ohio. But a vote for Governor Kasich in future contests makes it extremely likely that Trumpism would prevail.

I will vote for Senator Cruz and I encourage others to do so as well, so that we can have an open convention and nominate a Republican.
In case you're checking the polls, no, there is no candidate named "A. Republican," and Romney's non-dorsement leaves open the possibility that literally anyone but Trump (or Cruz) could be the nominee.
The decided lukewarmth of Romney's pitch didn't, however, dissuade Ted Cruz from thanking him:
Thank you, Governor! https://t.co/4zbAGaIGSH

— Ted Cruz (@tedcruz) March 18, 2016
Maybe he was thanking him for keeping it on the down-low. This is not the year to covet a Romney endorsement.
This is an opinion piece. The views expressed in this article are those of just the author.