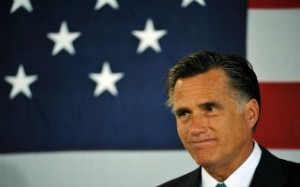 Mitt Romney was on the offense Tuesday night, when he gave a speech in Ohio, the final stop on his four-state bus tour. Blunt in his criticism, Romney characterized the Obama presidency as "angry and desperate," further asserting that President Barack Obama's campaign strategy is "to smash America apart."
Team Obama is "intellectually exhausted, out of ideas, and out of energy," Romney argued — which has led them to resort to "diversions and distractions, to demagoguing and defaming others."
He went on to use 2008 Candidate Obama's words — "if you don't have any fresh ideas, then you use stale tactics to scare voters" — against 2012 Obama. Citing the negative attacks coming from the president's campaign, Romney asserted, "This is what an angry and desperate Presidency looks like."
Romney then went on to accuse the president of pushing Democrats and Republicans apart:
Over the last four years, this President has pushed Republicans and Democrats as far apart as they can go. And now he and his allies are pushing us all even further apart by dividing us into groups. He demonizes some. He panders to others. His campaign strategy is to smash America apart and then cobble together 51 percent of the pieces.

If an American president wins that way, we all lose.
Then, he offered Obama some advice: "So, Mr. President, take your campaign of division and anger and hate back to Chicago and let us get about rebuilding and reuniting America."
Obama spokesman Ben LaBolt, asked for comment, responded:
"Gov. Romney's comments tonight seemed unhinged, and particularly strange coming at a time when he's pouring tens of millions of dollars into negative ads that are demonstrably false."
As Yahoo! News notes, Romney's speech "sought to take direct aim at what has been one of Obama's strengths heading into the fall: His likability" — particularly given that polls have consistently shown Obama's edge over Romney in that aspect.
Whether it's effective is yet to be seen, but these are some of his strongest criticisms of Obama yet.
(H/T Yahoo! News)
Have a tip we should know? tips@mediaite.com