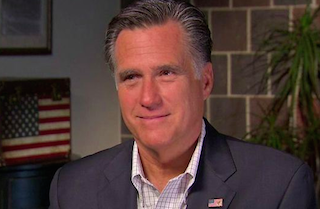 Non-2016 presidential candidate Mitt Romney lent his voice to the debate over President Barack Obama's nuclear deal with Iran in a USA Today op-ed Friday, urging the president to do the "courageous" thing and walk away from the negotiations. He also admitted the deal would be a "political home run," not just for Obama but also for Hillary Clinton.
"The president could silence critics like me and even qualify for a Profile in Courage Award by doing the right thing on Iran: Walk away from a flimsy nuclear agreement," Romney argued.
He went on to explain why such a move would be "courageous" and how Hillary Clinton fits in to the whole thing:
I say courage because signing an agreement — any agreement — would undoubtedly be a political home run. The news media would repeatedly feature the signing ceremony. The coverage would rehearse the long and tortured history between our two countries and exalt at the dawn of a new era. The Iranian pooh-bahs would appear tame and responsible. The president would look, well, presidential. An agreement would also boost the prospects for Hillary Clinton: achievement by association.

Walking away from all that would be courageous. It would also be right.
Clinton, who has not been part of the Obama Administration for years, has no direct "association" with the proposed deal. She did, however, share her thoughts on Republican senators' attempts to scuttle the agreement at the top of her press conference earlier this week.
"One has to ask, what was the purpose of this letter?" Clinton asked on Tuesday at the United Nations. "There appear to be two logical answers. Either these senators were trying to be helpful to the Iranians or harmful to the commander-in-chief in the midst of high-stakes international diplomacy. Either answer does discredit to the letters' signatories."
Watch the video below, via Fox News:
[Photo via screengrab]
— —
>> Follow Matt Wilstein (@TheMattWilstein) on Twitter
Have a tip we should know? tips@mediaite.com