Romney Owns 47% Comments In Editorial: 'I'll Deliver Recovery, Not Dependency'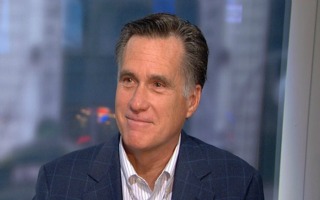 Republican presidential candidate Mitt Romney published an opinion piece in Wednesday's USA Today in which he takes ownership of this weeks' debilitating "47 percent" gaffe. Many said that the GOP nominee's controversial comments could derail his campaign. Today, Romney is not running away from those comments — while not referencing them directly — and makes the case for why he can change what he sees as a trend towards government dependency.

RELATED: Romney Prepares To Own 47% Message: Can He Make Lemonade?
The hidden camera video of Romney telling an audience of donors that 47 percent of Americans pay no income tax and would naturally support President Barack Obama was said to be a potentially campaign-ending misstep. Today, Romney is making the best of those comments by framing his message around them.
"Since our founding, America has promoted personal responsibility, the dignity of work and the value of education. Those values made our nation the hope of the earth and our economy the envy of the world," Romney began.
We're experiencing the worst recovery since the Great Depression. Unemployment has been above 8% for 43 straight months; 47 million Americans are on food stamps. Nearly one in six Americans now live in poverty.
Romney conceded that government has a role to play in ushering in a recovery which allows more Americans to achieve independence, but the president has thus far not pursued the right course to realize that goal.
My course for the American economy will encourage private investment and personal freedom. Instead of creating a web of dependency, I will pursue policies that grow our economy and lift Americans out of poverty.

My five-point plan will deliver the economic recovery we've all been waiting for and the jobs millions of Americans still need. This can be more than our hope; it can be our future. And it can start this November with your vote.
Read the full piece via USA Today
> >Follow Noah Rothman (@Noah_C_Rothman) on Twitter
Have a tip we should know? tips@mediaite.com