Romney: World in Crisis Because Obama 'Failed to Act When Action Was Possible'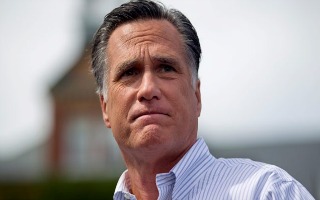 Former Republican presidential nominee Mitt Romney, writing in the pages of the Wall Street Journal, sharply criticized President Barack Obama's administration for missing a series of opportunities to pursue America's interests abroad. He said that, as a result of Obama's critical inaction at various periods, America has "no good options" to address a variety of crises today.
"Russia owns Crimea and all we can do is sanction and disinvite—and wring our hands," Romney wrote. "When protests in Ukraine grew and violence ensued, it was surely evident to people in the intelligence community—and to the White House—that President Putin might try to take advantage of the situation to capture Crimea, or more."
He added that blood continues to be shed in Syria where America can do nothing but watch or ally with al Qaeda-backed opposition rebels. "Months before the rebellion began in Syria in 2011, a foreign leader I met with predicted that Assad would soon fall from power," Romney disclosed. "Surely the White House saw what this observer saw."
RELATED: Rothman: MSNBC's Most Embarrassing Mockery of Romney's Russia Warnings
Similarly, America has been unable to convince Iraq and Afghanistan to sign status of forces agreements that allow American troops to safeguard the gains made in those two countries. "In negotiations, you get something when the person across the table wants something from you, not after you have already given it away," Romney observed.
Able leaders anticipate events, prepare for them, and act in time to shape them. My career in business and politics has exposed me to scores of people in leadership positions, only a few of whom actually have these qualities. Some simply cannot envision the future and are thus unpleasantly surprised when it arrives. Some simply hope for the best. Others succumb to analysis paralysis, weighing trends and forecasts and choices beyond the time of opportunity.
He concluded by saying that he hopes the White House will begin to address their failures on the world stage. "Part of their failure, I submit, is due to their failure to act when action was possible, and needed," Romney closed.
Read the full op-ed via WSJ
[Photo via AP]
— —
> >Follow Noah Rothman (@NoahCRothman) on Twitter
Have a tip we should know? tips@mediaite.com