Roy Moore Is Using Story of His Alleged Teen Sex Abuse to Fundraise For Senate Campaign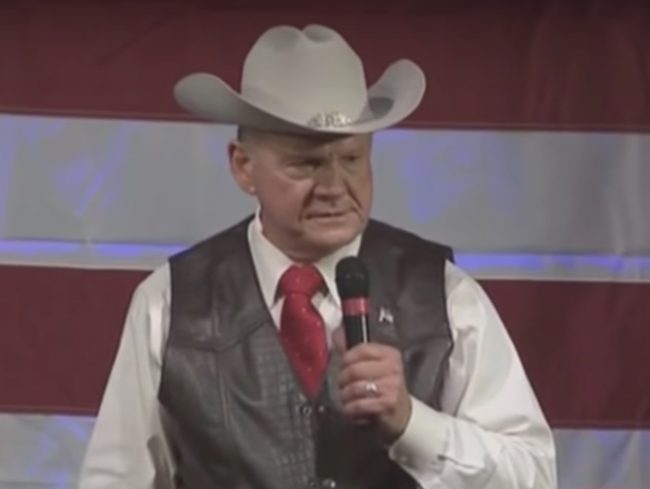 Today brought us the huge blockbuster story by the Washington Post which includes allegations that Alabama GOP Senate candidate Roy Moore pursued relationships with at least four teenage girls while in his 30s. One of the women in the explosive report said Moore initiated sexual contact with her when she was only 14 years old.
The ex-Alabama judge has called the Post's story a political hit piece and "fake news" while running to conservative media outlet Breitbart in an attempt to get ahead of the story. While many Republicans in Washington are distancing themselves from Moore and calling for him to withdraw from the Senate race, other conservatives have come to his defense.
Meanwhile, it appears that the Republican Senate candidate is wasting no time in using the bombshell accusations to his advantage as he's already sent out a fundraising email claiming that the report is part of a smear campaign launched by the "Obama-Clinton Machine's liberal media lapdogs."
The Toronto Star's Daniel Dale shared the email on Twitter:
Roy Moore is fundraising off of a story alleging he sexually abused a girl. pic.twitter.com/MTjWI2hwmA

— Daniel Dale (@ddale8) November 9, 2017
It is still more than a month before the Alabama Senate special election.
UPDATE 7:24 PM ET: Moore took to Twitter this evening to send out the most bombastic sentences from his email.
The Obama-Clinton Machine's liberal media lapdogs just launched the most vicious and nasty round of attacks against me I've EVER faced!

We are are in the midst of a spiritual battle with those who want to silence our message. (1/4) #ALSen

— Judge Roy Moore (@MooreSenate) November 9, 2017
The forces of evil will lie, cheat, steal –– even inflict physical harm –– if they believe it will silence and shut up Christian conservatives like you and me. (2/4) #ALSen

— Judge Roy Moore (@MooreSenate) November 9, 2017
I believe you and I have a duty to stand up and fight back against the forces of evil waging an all-out war on our conservative values!

Our nation is at a crossroads right now — both spiritually and politically. (3/4) #ALSen

— Judge Roy Moore (@MooreSenate) November 9, 2017
Our children and grandchildren's futures are on the line.

So rest assured — I will NEVER GIVE UP the fight! (4/4) #ALSen pic.twitter.com/QfN0GM7EMh

— Judge Roy Moore (@MooreSenate) November 9, 2017
[image via screengrab]
—
Follow Justin Baragona on Twitter: @justinbaragona
Have a tip we should know? tips@mediaite.com