Roy Moore Website Now Has Form Where People Can Report on Inappropriate 'News Contact'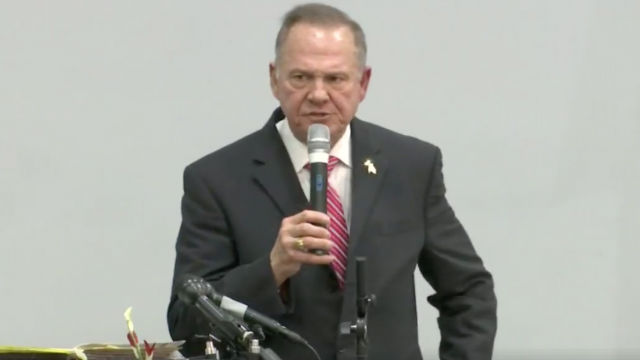 The walls keep closing in on Alabama Senate candidate Roy Moore, after multiple women have stepped forward and accused him of sexual misconduct when they were teenagers.
The former judge has remained defiant, claiming that he will stay in the race against Democratic opponent Doug Jones, despite Sean Hannity issuing an ultimatum that he must clear his name by this evening.
The RNC has pulled its funding and lawmakers are removing their support left and right. What is Moore to do? It looks like he is going to follow the Trumpian model of blaming the media and playing the victim.
The candidate's website now features a form where eagle-eyed Alabama residents can report, anonymously, on members of the media, decrying their foul attempts to smear the good name of a good man… who allegedly liked signing high school yearbooks and badgered teenagers at the mall well into his 30s.
According to his wife, Kayla Moore, the form has an official name, "The Judge Moore Witch Hunt link."
She also took to Facebook to describe the reasoning behind all of this digital tattling, stating that her husband will be collecting these reports as evidence for a future lawsuit.
"In the past month our hometown, county and state have been invaded by the Washington Post and liberal media," she wrote. "Reports coming in are that they are wanting anyone who knows us or has known us in the last 40 years to tell them anything about us, it's called a witch hunt."
On that note, please do not point your web browser to the form and clog up their servers with nonsense. Seriously. Do not do that. This is a totally serious form that demands the utmost respect.
[image via screenshot]
—
Follow Lawrence Bonk (@sidescrollers) on Twitter
Have a tip we should know? tips@mediaite.com