Rubio Campaign Slams Ted Cruz For Spreading 'False Rumors' He Might Drop Out
The Marco Rubio campaign is once again accusing GOP rival Ted Cruz of dishonesty, this time after his Hawaii campaign spread a story claiming that Rubio's advisors were telling him to leave the race.
Ted Cruz Hawaii sent an email to supporters the day before the Hawaii caucus with the subject line "WASTED VOTE." "According to multiple news sources, Marco Rubio's advisers are telling him to drop out of the presidential race before losing his home state of Florida in a few days time," the email reads.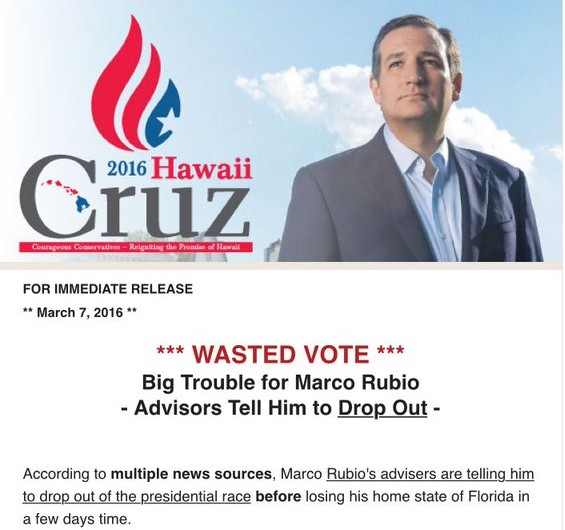 Despite Ted Cruz Hawaii saying multiple news sources were reporting the story, it's really just the one: CNN. That CNN story has been loudly denounced by Rubio's spokespeople, who point out that the story is based on a single anonymous source and that the campaign was not asked to refute the claims before the story went to print. CNN is standing by its story, however.
"Senator Cruz is up to his dirty tricks again spreading false rumors and lies," the Rubio campaign said in a statement. "We won't allow him to do to Marco Rubio in Florida what he did to Ben Carson in Iowa."
The latter part of the statement is a reference to the Cruz campaign having spread a rumor claiming that Carson was dropping out during the Iowa caucus. Cruz himself later apologized for his campaign's conduct.
The Rubio campaign also complained after the Cruz campaign spread a photoshopped image of Rubio shaking hands with President Barack Obama and after campaign spokesman Rick Tyler spread a false story claiming Rubio trashed the Bible. Tyler was later personally fired by Cruz, and the photoshopped image has since been taken down.
Ted Cruz Hawaii did not responded to Mediaite's request for comment, and have deleted their website. Before its website was deleted, Ted Cruz Hawaii claimed to be "the officially sanctioned organizing committee for Cruz for President."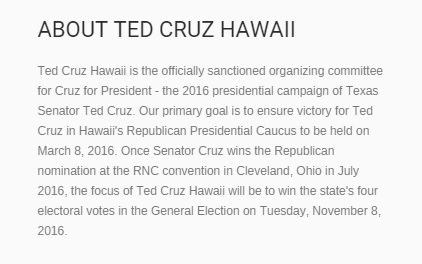 UPDATE (12:18 PM ET): The Cruz campaign has issued a statement disavowing the email and claiming that Ted Cruz Hawaii is an unsanctioned organization.
[Image via screengrab]
——
>>Follow Alex Griswold (@HashtagGriswold) on Twitter
Have a tip we should know? tips@mediaite.com