Rush Limbaugh Celebrates Native Americans For Refusing To Obey US Government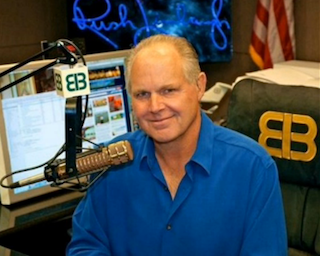 Sometimes it seems like every Rush Limbaugh clip we post here runs the gamut from "Angry Rush" to "Really Angry Rush.". Therefore, it's nice every once in a while to show a clip of the radio host just enjoying himself (especially if said clip involves him giggling at something that would entertain a grade schooler). And, while there's no potty talk in this clip, Limbaugh does demonstrate a kind of schoolboy wonder as he becomes completely entranced by the intricacies of Native American law.
No, he's not impressed by their noble and fraught history or anything like that. He just really likes that they can basically tell the US government to shove it.
The story that caught Limbaugh's eye is the battle between the Cherokee Nation and the US government over whether or not they have to allow the "freedmen" to vote in tribal matters. The freedment are black descendants of slaves the Cherokees owned centuries ago. Since being freed, they have remained living with the tribe. However, the tribe has recently decided that they can't vote in elections of tribal leaders since they don't have direct Cherokee ancestry. The government has told the tribe that, if the freedmen can't vote, they will not recognize the election results as valid.
Yes, Native Americans and slave descendants. It certainly seems like the sort of story just waiting for Limbaugh to say something off-color about. However, today he was just too distracted by the Cherokee specifics. "They have their own Supreme Court?!" he marveled.
"So we have a whole little country here operating in America with their own rules, " Limbaugh summed up. "They need the largesse of the federal government but they don't want to live with federal rules. I kind of like that."
Listen to the clip below:
Have a tip we should know? tips@mediaite.com