Rush Limbaugh Has 'No Problem' With Rick Santorum Copying His Operation Chaos Approach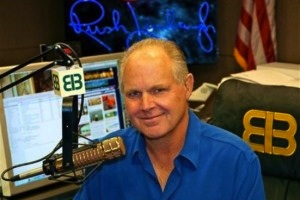 They say that imitation is the highest form of flattery. Apparently, that's a rule that Rush Limbaugh lives by. At least he doesn't have any problem with Rick Santorum employing a strategy similar to his own infamous "Operation Chaos" maneuver in the race against Mitt Romney.
Back in 2008, Limbaugh originated Operation Chaos, a plan to have Republicans vote for Hillary Clinton in various primaries because, as he explained at the time, keeping Clinton in the race would get her to "bloody up Obama" (this is part of the reason, perhaps, why people are so confused to see Limbaugh pushing to keep the GOP primaries going this time).
Santorum has used a similar technique, employing a robocall to try and persuade Michigan Democrats to vote for him to hurt Romney. The move has angered a number of conservatives but Limbaugh, who totally may or may not be rooting for Santorum, is all for it.
From his radio show today:
"I know a lot of people are upset with Santorum doing this Operation Chaos business. I get the email. People are upset Santorum is crossing the aisle and trying to get Democrats to vote in the primary today. Maybe I'm in the minority here, but, as the original architect of Operation Chaos, I don't have any problem with it if it's done for the right reason."
Limbaugh argued that it was a clever move by Santorum since Michigan is filled with "Reagan Democrats" and, since Obama won't be going after them, why not he?
Listen to the clip below;
(h/t The Daily Rushbo)
Have a tip we should know? tips@mediaite.com