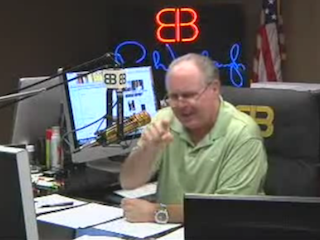 Rush Limbaugh was off yesterday and, with everything that's happened since he last took to the microphone, we were expecting today's broadcast would be pretty energetic. Boy, were we not disappointed. Limbaugh absolutely went off on the Anthony Weiner situation. We've got video and some of the best quotes below.
The main take away is that, unlike Glenn Beck, Limbaugh doesn't want Weiner to resign. In fact, he "wholeheartedly endorses" Weiner not resigning. However, he wants Weiner to "stay strong" for some fairly pragmatic reasons. Limbaugh believes Weiner to be the "poster boy" for the Democratic party and, if said poster includes a picture of a penis, all the better.
Of course, there was so much else going on in this segment. It truly was one of those posts where I had about a billion quotes to choose from for the headline. So, I'd like to share some of my favorite moments below in bullet point form.
Limbaugh agrees with Beck on one thing: if he was a lady and Weiner approached him, he totally wouldn't tap that.
"Here you have the classic dictionary definition of a nerd, the dictionary definition of a pencil-necked geek and they're telling us that this guy would walk into a bar and women would fall all over themselves to be near the guy. This guy was Playboy Numero Uno. He was a womanizer par excellence. "
Limbaugh does not get sexting.
"Phone sex at least there's a voice on the other end! This, texting, why it's just absurd! You'd never catch Hugh Hefner doing this! Hugh Hefner put his pajamas on, had them over to the Mansion, and they'd go at it for real. Hugh Hefner wouldn't show them a picture. He'd show them the real thing!"
Limbaugh thinks it's hilarious that Weiner's website proudly describes a bill Weiner sponsored to protect children from sex offenders on the Internet.
Limbaugh uses the phrase "culture of erection" multiple times.
Limbaugh thinks it's ridiculous that news outlets are posting instructions on how not to get involved in a social media based scandal. He uses a post from the Wall Street Journal's Speakeasy blog (although he confuses its headline with that of this very similar Fox News post) as proof of "how pathetic this all is." Limbaugh wonders why this isn't "common sense," pointing out that the posts' instructions are like a reporter standing in a blizzard and telling people to "stay inside."
All in all, a classic 10 minutes of Limbaugh. Give it a listen in the clip below:
Have a tip we should know? tips@mediaite.com