Rush Limbaugh On Akin's Rape Comments: 'That's Just Absurd, It's Not Intelligent.'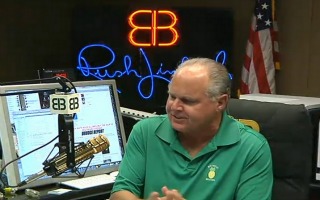 Conservative radio host Rush Limbaugh weighed in on inflammatory comments made by Republican Missouri Senate candidate Todd Akin. Limbaugh said that, while he was not prepared to call for Akin to step down, he called the GOP candidate's comments "absurd" and unsupported by anything but an insular circle of like-thinking friends.

RELATED: Todd Akin Releases New Ad Asking Missouri For 'Forgiveness'
Limbaugh said that he was not prepared to throw Akin "under the bus" as have so many conservative pundits and lawmakers. However, he said Akin's comments are reflective of a personality that is sequestered in only pro-life circles and rarely, if ever, encounters a dissenting opinion.
"This whole business that a woman's body shuts down after rape – there's no evidence for that," said Limbaugh. "That's the kind of thing that people who do nothing but talk amongst themselves will conjure up – a belief system like that – and they'll grab onto anything they can to support what their empirical belief is."
Limbaugh said that he has heard similar claims about pregnancies that result from rape before from pro-lifers. He called that point of view "absurd" and "not intelligent." He went on to say that Akin's defense of life was noble, but that he went about making his case with "glorious ineptitude."
He went on to condemn the Republican's "circular firing squad." He went on to claim that Democrats elevated Akin to be the party's nominee in a tightly contested three-way primary.
Listen to the segment below via The Rush Limbaugh Radio Show:
> >Follow Noah Rothman (@Noah_C_Rothman) on Twitter
Have a tip we should know? [email protected]