Rush Limbaugh: President Obama Is The 'Most-Racial' President We've Ever Had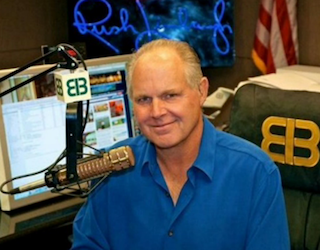 Today on his radio show, Rush Limbaugh railed against the Washington Post. The cause was an article entitled "Obama 2012 campaign's Operation Vote focuses on ethnic minorities, core liberals". Limbaugh seemed to feel that the Post was going easy on President Obama for not accusing him of hypocrisy. The hypocrisy? That he had promised to be "post-partisan" and "post-racial" in 2008 and this move, in Limbaugh's mind, proves that he is "the most partisan" and…uh…"the most racial."
Ok. Bad phrasing? It's certainly not a false statement that Obama is the "most racial" president we've ever had, but that's not really what Limbaugh's getting at.
Still, what he is getting at seems like kind of a weird argument. Whether or not Obama has succeeded in "uniting the nation," a claim which the cynic in me feels was sadly impossible to begin with, it's odd to view Operation Vote as a clear attempt to go back on those ideals. I mean, this is campaign stuff. Campaigns work in different demographics. I'll bet good money that there'll be ads for both Obama and the eventual GOP candidate that run in Spanish on Telemundo come next year. Does that mean that the candidates are purposefully trying to divide English and Spanish speaking Americans. Um, no. It just means that you need to focus different parts of your campaign on different parts of the country.
Limbaugh really seems to be grasping at straws when he sees some big ideological shift in this program.
However, the part where he says that creating a program to specifically go after the minority voters Obama won handily in 2008 shows concern on his campaign's part? Yeah, he might have a point there.
Have a tip we should know? tips@mediaite.com