Rush Limbaugh Slams Newt Gingrich On Meet The Press Appearance: 'It's Mind-Boggling'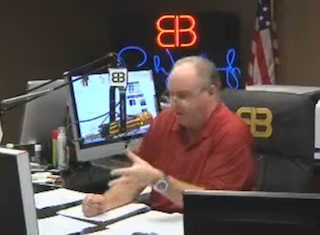 Newt Gingrich has been forced to backtrack a bit on some of the comments he made yesterday on Meet the Press. If you need any explanation as to why, the reaction of one Rush Limbaugh says pretty much all you need to know. Presumably speaking for a number of conservatives who have watched the interview, Limbaugh said it was "inexplicable" and that he wasn't even going to begin to try and explain what Gingrich was talking about.
"I am not going to justify this. I am not going to explain it. The attack on Paul Ryan, the support for an individual mandate in health care? Folks, don't ask me to explain this. There is no explanation! What do you mean, if I don't explain it, who will? There is no explanation for it. First off, it cuts Paul Ryan off at the knees. It supports the Obama administration in the lawsuits that 26 states have filed over the mandate. I guess, what? Back in 1993, Newt supported an individual mandate, everybody should buy insurance. I am as befuddled as anyone else is what I'm telling you."
Limbaugh went on to quote George Will's comment that Newt Gingrich is "not a serious candidate" and that it was down to Tim Pawlenty and Mitch Daniels. However, Limbaugh was not at all happy with the news story that a Daniels appointee in Indiana holds an opinion seeming to go against common-law rights. And he felt that Mitt Romney's health care problems were very similar to Gingrich's.
In the end, Gingrich explained that it wasn't his job to pick a candidate for his listeners.
Listen to the clip below:
Have a tip we should know? tips@mediaite.com