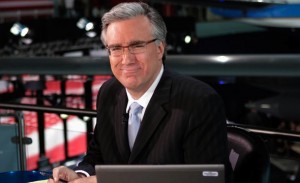 Hip hop mogul Russell SImmons announced early this morning that Keith Olbermann is going to be the newest CEO of the pop culture website Global Grind. April Fools! Yes, to kick off what's sure to be a day of levity and good humor from many in the media, Olbermann graciously accepted a formal offer from Simmons to head up the website, saying that the only problem he expects down the road is switching to a vegan diet.
RELATED: The Huffington Post Looks To The New York Times For April Fools' Inspiration
Global Grind made the announcement on its front page, but tempered it with the acknowledgement that it's April Fool's Day. Though they did wonder whether something like this might actually be possible.
Olbermann has been tweeting about the announcement this morning, mentioning that his regular Countdown feature of reading selections by James Thurber now may include remixes with Simmons himself. Olbermann was let go by Current TV a few days ago after management determined he was not following his contract.
Read the full announcement here:
GlobalGrind is pleased to announce that Keith Olbermann has become the new CEO of the Russell Simmons' founded website. In a dramatic turn of events, Mr. Olbermann became the new chief of GlobalGrind after his departure from Current TV.

Mr. Olbermann will bring years of experience to a company that has seen historical growth in traffic and revenue over the past twelve months. He will resume his duties immediately.

Russell Simmons says, "It gives me great pleasure that Keith will be joining our team and I know that he will make our company better. I think he has has even agreed to go vegan and do yoga with me on a daily basis. Keith is a genius and he will make GlobalGrind bigger than it has ever been."

Well folks, there you have it. Keith Olbermann and Russell Simmons create a dream team?

If it only wasn't April Fool's Day…

We dream, we dream…
h/t Keith Olbermann on Twitter
Have a tip we should know? tips@mediaite.com
Josh Feldman - Senior Editor