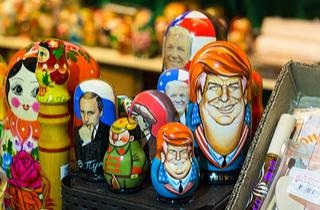 Igor Zorin runs a broadcasting company in Russia that only makes him $75,000 a year. Yet somehow Zorin has bought three units in Trump condominium developments in Florida. Huh?
That's right, according to various reports, Zorin owns three condos and one house in Florida that are reportedly worth up to $8.4 million. Zorin started buying the condos in 2010 and all three are at Trump Palace, worth $5.4 million total. Aside from the money discrepancies, there is suspicion over the fact that none of Zorin's property purchases were made using bank financing, which clearly suggests he paid for these holdings entirely in cash.
Apart from money, Zorin works for the Federal State Enterprise Russian Networks of Broadcasting and Notification, a state-owned company that would require he fill out the public disclosures forms for his properties as a government official, but there is no record according to the Miami Herald. Even further, just owning property in the U.S. is a black mark for Russian officials.
Zorin, however, was never the original owner of the properties.
Investigations went further when Zorin appeared to have ties with Svyatoslav Mangushev, a Russian intelligence officer who also owns real estate in Miami. His relationship with Mangushev is first found odd because of Mangushev's part in co-founding a biker club called "Spetsnaz M.C." with other Russian expatriates in Southern Florida. Secondly, Zorin and Mangushev have fishy ties.
"In Russia, security firms that have been linked to Mangushev have won $2.4 million worth of contracts from Zorin's agency since 2015. In Miami, Mangushev once transferred a Florida company that owned a $1.5 million condo out of his name and into Zorin's. No deed of sale was recorded, meaning the price paid — if any — is unknown," according to the Miami Herald.
[image via Pixabay]
Have a tip we should know? tips@mediaite.com