Sally Yates Warns Trump Against Firing Rosenstein: 'No One is Above the Law'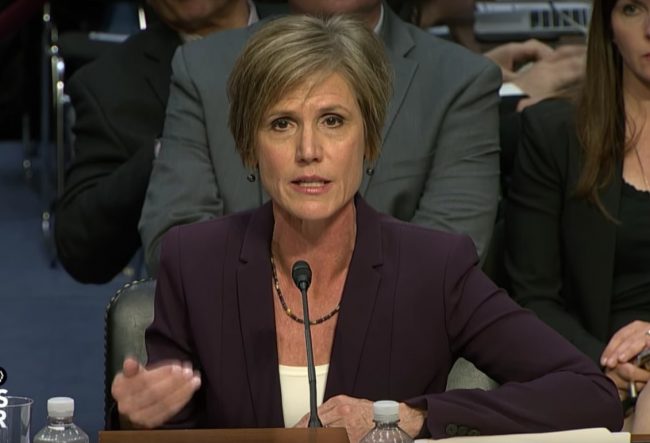 Former acting Attorney General Sally Yates warned President Donald Trump on Saturday against firing current Deputy Attorney General Rod Rosenstein.
Speculation that Trump would fire Rosenstein — which is widely seen as the president's path to disposing of special counsel Robert Mueller, who is investigating his campaign's ties to Russia — reached a fever pitch on Friday.
Unless he removes certain regulations, Trump can't fire Mueller himself, although he can direct Rosenstein to do so. But it's an order the deputy attorney general has said he would refuse.
Meanwhile, Rosenstein has become a target of Trump's furious (and public) criticism, and has reportedly told confidants he is ready to be fired. Republican lawmakers have been relatively quiet on the prospect, but Democrats have firmly warned Trump that such a move would prompt a constitutional crisis.
And now another Trump foe is jumping into the mix: Sally Yates, who was fired by Trump as acting attorney general in 2017.
"Make no mistake about what's at stake here: firing Rosenstein would be the same unconscionable assault on the rule of law as firing Mueller," she tweeted. "He controls scope of the Mueller investigation and what becomes public. Both D's and R's should reject sham excuses to fire Rosenstein."
Yates added that Trump can't fire Rosenstein because he's upset the deputy AG approved the raid of his personal lawyer Michael Cohen's home and office.
"No one is above the law," she wrote.
Make no mistake about what's at stake here: firing Rosenstein would be the same unconscionable assault on the rule of law as firing Mueller. He controls scope of the Mueller investigation and what becomes public. Both D's and R's should reject sham excuses to fire Rosenstein.1/2

— Sally Yates (@SallyQYates) April 14, 2018
2/2 And you can't fire a prosecutor because you're unhappy he approved a search warrant that relates to your own conduct. No one is above the law.

— Sally Yates (@SallyQYates) April 14, 2018
[image via screengrab]
—
Follow Aidan McLaughlin (@aidnmclaughlin) on Twitter
Have a tip we should know? tips@mediaite.com
Aidan McLaughlin - Editor in Chief