Sarah Palin Documentary The Undefeated Takes Box Office Silver* Behind Harry Potter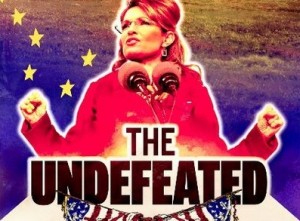 The new Sarah Palin (R-Fox) documentary The Undefeated has been the subject of copious mockery by the media, and while the negative reviews and observations about its counter-intuitive title may be deserved, attempts to cast the film as a box office crater aren't exactly fair. While the film's reported $75,000 take doesn't sound like much, its $7500 per-screen average was enough to place it second only to Harry Potter and the Deathly Hallows Part 2 (Ectoplasmic Boogaloo?) by that metric.

Both sides have, of course, had their fun with The Undefeated. On Monday night's The Last Word, host Lawrence O'Donnell gleefully announced the film's box office take, and compared it with "another political documentary," just to get the perspective right:
Of course, using Fahrenheit 9/11's $27,558 per-screen average as the benchmark is like calibrating your bathroom scale with Andre The Giant standing on it. To really gain some perspective on what box office figures really mean, compare The Undefeated with Errol Morris' Oscar-winning documentary The Fog of War, which opened to a $13,816 per-screen average. While no one would ever accuse The Undefeated of being half as good as The Fog of War, neither does does anyone think Fahrenheit 9/11 was twice as good as Morris' doc. The measure of commercial success for documentaries is extremely varied, and commercial success is a poor indicator of a documentary's quality.
My point is, you can think the Palin film is a bomb, yet still give an honest assessment of its commercial performance. As far as that goes, The Undefeated isn't a blockbuster, but it's also not a flop. Given that documentaries are often given only a token theatrical run (to make them more marketable for the home video market, or to qualify for awards), The Undefeated is well-perched to become a modest commercial success.
I haven't seen The Undefeated, but I doubt it can top John Ziegler's Media Malpractice for sheer entertainment value (Ziegler's film is fast and funny, no matter which aisle you're sitting in). Even so, for a film with a modest budget, and modest ambitions, it appears to be doing okay.
While misunderestimations of The Undefeated depend largely on ignorance of how the movie business works, so did the conservative media's freakout about early reports of the film's lack of success. The Atlantic's Conor Friedersdorf took in an (opening night) midnight showing of The Undefeated, and when he dared to report that he was the only one in the theater for the entire film, conservative blogs like Big Journalism freaked out, blaming the writer for setting the film up for failure:
If you read the fine print…

"The Atlantic" writer is reporting on his experience at a midnight screening …  on a Thursday night.

No.

Really.
The piece goes on to weirdly wonder where are the stories about the film's more successful showings, while providing links to stories about those showings. It also complains about a Politico piece that notes "Other theaters will be more full. Sarah Palin's supporters, the movie's natural audience, have been organizing trips to see it and promoting it energetically."
Big J's John Nolte has a point that this one reporter's experience doesn't tell the whole story of The Undefeated, but Friedersdorf's expectation of an energetic crowd wasn't completely out of left field, either. It's not as though The Undefeated was part of some Midnight Thursday Movie Experiment. When a hotly-anticipated film opens on a Friday, all movie theaters show it at midnight (contrary to some reports, The Undefeated's midnight showing was advertised), and people who are all hopped up to see it show up there to see it. Now, the older-skewing conservative audience might dampen that expectation, but in a "Republican stronghold" like Orange County, a completely empty showing is worth noting.
The truth, as usual, is somewhere in the middle, and is probably best represented by Big Journalism editor Larry O'Connor's later account of a theater about 1/3 full of enthusiastic Palin fans the next day (less moderate were Larry's nasty shots at Friedersdorf, and at the unemployed).
The Undefeated isn't Titanic, but it also isn't Gigli. By the same token, Conor Friedersdorf isn't Walter Cronkite, but he's also not a rain-coated flasher.
Have a tip we should know? tips@mediaite.com