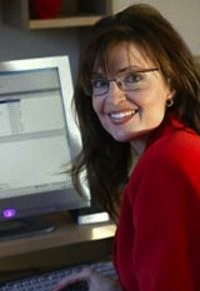 It's been a good week for Sarah Palin. Not only has the former governor made it into the Time 100 for 2010, she's now received the justice she's been seekin' ever since her email account was hacked into during the 2008 presidential election. Fox News is now reporting that David Kernell, the 22 year old man responsible has been convicted on two of the four counts he was charged with.
From Fox News:
"A Tennessee jury on Friday convicted the man who hacked Sarah Palin's e-mail account on two of four charges — computer fraud and obstruction of justice. The panel did not find David Kernall guilty guilty of wire fraud. It deadlocked on an identity theft charge.

The former University of Tennessee student faced as much as 50 years for breaking into Palin's e-mail while the former Alaska governor was the Republican vice presidential candidate in 2008."
Sarah Palin (or a member of her staff) was quick to post a response to the verdict on her Facebook page detailing her thrill with the verdict as well as comparing the crime to the Watergate break in. The full post reads as follows:
"My family and I are thankful that the jury thoroughly and carefully weighed the evidence and issued a just verdict. Besides the obvious invasion of privacy and security concerns surrounding this issue, many of us are concerned about the integrity of our country's political elections. America's elections depend upon fair competition. Violating the law, or simply invading someone's privacy for political gain, has long been repugnant to Americans' sense of fair play. As Watergate taught us, we rightfully reject illegally breaking into candidates' private communications for political intrigue in an attempt to derail an election.

I want to thank the public servants who worked so hard on this case, particularly the jurors who gave up precious time from their jobs and families to listen to the evidence and reach a decision.

My family and I appreciate the good people of Knoxville, Tennessee, who showed us true Southern hospitality. We can't wait to visit again – but without having a subpoena in hand.

– Sarah Palin"
The time between the post and Palin's online response was incredibly quick. Clearly, in the two years since the hack, Team Palin has gotten much, much better at using technology.
Have a tip we should know? tips@mediaite.com