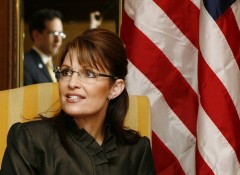 Is there a more media savvy politician out there than Sarah Palin? I'm not convinced. Earlier this week Palin called for chief of staff Rahm Emanuel's firing on her Facebook after it became public that he'd referred to some liberal groups as ""f***ing retarded" back in November. Emanuel (obviously) still holds his job, but an apology he privately made to Special Olympics Chairman Tim Shriver last week quickly became public in light of Palin's post.
Today USA Today published an oped penned by Palin defending her choice to appear at the Tea Party convention this weekend. Her appearance has caused some controversy namely because of the prices the convention organizers are charging to attendees ($550 ticket price doesn't strike as terribly grass roots, does it?). Perhaps some of that money is going towards paying off the hefty $100,000 Palin is being paid for her time. Yay, real America! (seriously, what's more American than good old capitalism). It should be noted that Palin has said she will donate the speaker's fee "back to the cause" and additionally notes in the op-ed that she will not "benefit financially" from the event, which sort of begs the question why get paid in the first place. Anyway, more from USA Today:
But participation won't be limited to those in Nashville who have a ticket. It's much bigger than that. Because the Tea Party movement is spread out across the country — with no central offices or annual events — this is an opportunity to connect with like-minded folks. Yes, there will be speeches given in a room in Nashville. But we'll also be speaking with thousands of Americans watching online at twitter.com/SarahPalinUSA, or through various news outlets. And the conversation will continue on my Facebook page.
Basically, it doesn't matter if you can't afford to attend an ostensibly grass roots convention that has been hijacked by money hungry politicos (a description which could fit just about every political movement time out of mind)…you can still watch online, buy some paraphernalia and consider yourself a participant. Or even better, come talk about it on Sarah Palin's Facebook page, where you can donate to her PAC and sign up to her email list. Talk about having your Tea Party cake and eating it too. The Change We Can Believe message was not lost on Palin.
Related:
Revealed: Sarah Palin, Adorable Child Huntress Of Alaska
Soundbite: Sarah Palin's Facebook Is The New Politico
Have a tip we should know? tips@mediaite.com