Sarah Palin: 'It Harms 'Our Republic When A Candidate Isn't Vetted By The Media'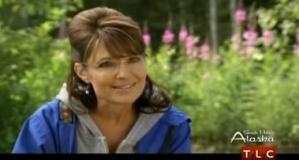 Breaking: Sarah Palin has said something negative about the media. Today, the ex-governor chatted with the hosts of Anchorage's Bob & Mark Morning Show—and, sure enough, the talk soon turned to the mean old people of the press. Specifically, Palin was discussing former Mediaite contributor John Ziegler's documentary, Media Malpractice: How Obama Got Elected and Palin Was Targeted, which is apparently how available on Alaskan Pay-Per-View.
Palin, who is (unsurprisingly) a fan of the film, agrees with either Bob or Mark that it deserves to be shown "at the college level, in every political science course there is. And in communications courses." She then gives a short, run-on monologue about the state of the media, making sure to also take a few digs at President Obama:
"My degree was in communications, and having learned way back when, in college, the who what when where and why of journalism, things have certainly evolved and devolved into a sad state of affairs with mainstream media reporting. We know that Obama wasn't vetted through the campaign, and now some things are coming home to roost, if you will, with his experience and his associations. And that ultimately harms our republic, when a candidate isn't vetted by the media, that cornerstone of our democracy. So you're right—it's not about me. And whether you like my politics or not, you can push all that aside and just pay attention to what the message is in this documentary, and that is that things have got to change for the better in the state of journalism. Otherwise, it could be part of a demise of our democracy if that cornerstone erodes."
There you have it: a lack of journalistic integrity and curiosity helped get Obama elected. Also, media criticism of Sarah Palin is killing democracy. Or at least the republic. Or something.
Audio of Palin's appearance is below.
Have a tip we should know? tips@mediaite.com