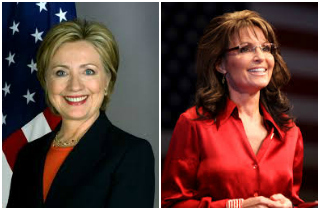 Sarah Palin wants to know why everyone is so upset about Karl Rove suggesting there's something wrong with Hillary Clinton's brain. In a Facebook post Monday, Palin argued that no one went easy on her during the 2008 presidential election so Clinton should expect the same treatment.
Linking to a Wall Street Journal article on the issue she evidently found on The Drudge Report, Palin mocked Rove's critics.
She wrote:
"Hey! Hillary's brain is off-limits! Leave her health records alone! Democrats are right – scouring records of a female candidate is just politics of personal destruction, and for the media to engage in it would be unfair, unethical, and absolutely UNPRECEDENTED. You can't probe a woman like that because, well, it's a war on women!

Bunch of sexist, big meanies engaging in something heretofore unheard of, for shame."
As proof that this isn't the first time a (potential) female candidate's health records have been mined for scandal, Palin posted links from POLITCO, Salon and elsewhere about the conspiracy theories surrounding her son Trig. During the 2008 election, rumors swirled that Palin's youngest, who has Down syndrome, was actually Bristol Palin's son.
"Thank goodness liberals are consistent in refusing to apply double standards, thanks to their disdain for hypocrisy – so they'll come through once again!" Palin wrote on Facebook. "With enormous issues to debate before choosing a Presidential/Vice Presidential ticket, have confidence no mean-spirited salaciousness will be pushed by 'real journalists.' Nope. This just doesn't happen at this respectable level of American politics. Just ask me. And Trig."
So, just to be clear, Palin is still mad that liberals tried to "scour" her medical records in 2008. But instead of being angry with Rove and other conservatives for doing the same thing to Hillary Clinton, she's fed up with Democrats for not recognizing the irony?
Read the full post on Facebook:
[Photos via Wikimedia Commons]
— —
>> Follow Matt Wilstein (@TheMattWilstein) on Twitter
Have a tip we should know? tips@mediaite.com