Sarah Palin: Obama Is 'Quite Naive And Stubborn'; Someone Is 'Pulling His Strings'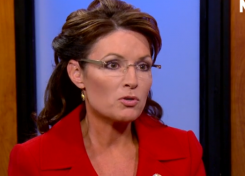 Lamestream media hater Sarah Palin gave what appears to be a lengthy interview to conservative magazine Newsmax last week parts of which were obtained by Politico and a preview of which you can watch below. Fear not, America! Turns out Palin is only interested in running for President if the country convinces her they are willing to go rogue along with her.
"It isn't my call – it is the people of America whether they would be ready for someone a bit unconventional, out of the box…You know — being used to taking on the establishment. Taking on both side of the aisle. Or if they want someone a little more conventional maybe more electable — and that's who they would support."
Emphasis mine, because I suspect, down the road, this will end up being the crux of her explanation as to why she isn't running for president as well as a slick way to explain recent poll numbers that show she is not all that well-liked across the land.
For those of you worried Palin has not devoted enough time in the last two years to brushing up her foreign policy bona fides, here's her take on what could happen if Iran obtained nuclear weapons.
"We have to realize that at the end of the day that a nuclear weapon in that country's hands is not just Israel's problem or America's problem it is the world's problem…It could lead to Armageddon. It would lead to that World War III that could decimate so much of this planet."
Indeed. In the Newsmax video preview (you can watch it here, it starts automatically so I didn't include in post) Palin defends her creation of the term 'death panels'…sort of:
You know I was about laughed out of town for bringing to light what I called 'death panels'…I called it like I saw it and people didn't like it.
Oh and while she won't say President Obama is a socialist he does "lean towards that belief." She also says the president is "quite naive, he's stubborn, whoever it is that is pulling his strings will not let him admit that…what we know from history that free market principles will certainly work better than socialism." Alas, no word on who the person pulling Obama's strings is, but perhaps we can all look forward to Palin teaching a special 'History of the Free Market' class at Glenn Beck U sometime soon.
Have a tip we should know? tips@mediaite.com