Sarah Palin Re-Launches Bus Tour With Monochromatic 'We Grow Good People In Small Towns' Video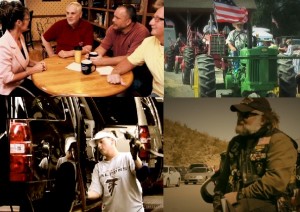 Former Alaska Governor Sarah Palin relaunches her "One Nation" bus tour in Iowa today, and to kick off the festivities, Palin has posted a video on her SarahPAC website that presumably shows the "One Nation" she intends to maybe decide if she wants to lead. Echoing her "real Americans" rhetoric of the 2008 campaign, the video extolls the virtues of the "good people" who are grown "in small towns."
Taking Palin at her word that the people in these stock clips are all "good," they all have one other thing in common.

If you have a hummingbird's visual cortex, you can make out a stray black person here or there, but the golden-hued soft focus on the "good people" who do all the hard work is reserved for the white people in Palin's video, which even manages to find an all-white stock clip of marching Marines.
Those inclined to dismiss Palin's omission of black people from her relaunch video should pay attention to the not-so-subtle clues in the clip's title, "Always Proud," and her declaration that these "good people" are "always proud of America," and consider them in context with this jab at Michelle Obama (a follow-up to one she made in her book, America By Heart).
What does this say about Palin? Probably nothing new. At best, it means that whoever put this video together just didn't notice the lack of diversity, and didn't need to, because the folks Palin is appealing to aren't all that concerned with diversity. If the video is designed to get someone to point this out so that Palinistas can chow down on another feast of Lamestream Media™ victimization, then I guess this is the dinner bell.
Have a tip we should know? tips@mediaite.com