Palin Thanks President On Bin Laden's Death, But Doesn't Mention Obama By Name (Update)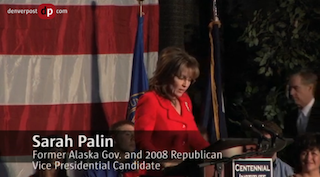 Yesterday, Sarah Palin joined "distinguished military leaders and service members" to speak at a Tribute to the Troops event at Colorado Christian University. All of the proceeds are to be donated to Tragedy Assistance Program for Survivors, a charitable non-profit designed to help "those who have lost a loved one on active duty with the Armed Forces." The event sold tickets for $25 and, in addition, held a silent auction that, alone, raised $24,000. Clearly, good being done. However, this charitable work may be sullied in some people's eyes by Palin's decision to thank President Bush for Osama bin Laden's death but never mentioning by nbame the guy who actually signed the order.
The Denver Post has a write up of the full event. Here is the part that's raising some eyebrows:
"'Their courage and their determination brought us justice,' Palin said of those who hunted the terrorist figurehead for nearly 10 years. 'They know that freedom isn't free. It's a God-given right and worth fighting for.'

Palin never mentioned President Barack Obama by name — instead saying, 'We thank President (George W.) Bush for having made the right calls to set up this victory.'"
While the event was planned way in advance of Bin Laden's death, it, unsurprisingly, became a focal point of the night. What better way to tribute troops by reminding the crowd of a huge symbolic victory that came just hours before. However, making a specific point not to mention President Obama (and, yes, it must have been a specific point. I doubt she and her speech writers just forgot his name) was a bad move. It's just a distraction.
Here was Palin, undeniably doing something positive for her country and she just goes and leaves herself completely (and perhaps rightfully) open to attacks. While Obama should certainly have played second fiddle to our nation's servicemen and women at an event like this, a mere mention of his name would have kept her from looking petty and kept the attention on the troops she was tributing.
It's similar in many ways to what many people were saying about Obama's birth certificate speech last week. Why would the President's handlers have him give a big speech about having "serious business" to attend to and then schedule an excursion to visit Oprah Winfrey right after. Obviously, in hind sight, we can see that he really did have serious business this past weekend but, at the time, it looked foolish.
So, we'll see what gets more headlines; Palin's charity work or her Obama snub. And, no matter which direction the media takes it, remember that Palin could have avoided all of it by just saying one little name.
Update: this story was originally published based on numerous accounts (namely the Denver Post) that Sarah Palin neglected to mention Obama by name during a charity event at which she spoke. This was an angle picked up by the LA Times, ABC News and others. And while that is technically correct, after reviewing the entirety of the speech, it is clear that Palin did in fact thank the president, and though she doesn't mention him by name, she does praise the leadership shown by Obama in making the decision to go in, saying that's an "example of the leadership that troops deserve." However, one can still reasonably wonder why Palin didn't feel the need to mention President Obama by name.
Check out video from some of Palin's comments from the Denver Post below. Their full report is here.
Have a tip we should know? [email protected]