Sarah Palin To 'Good Ol' Media:' My Bus Tour Isn't Canceled – I Have Jury Duty.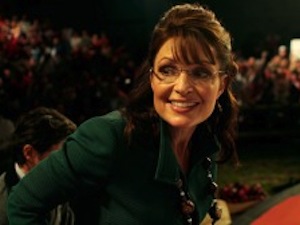 In a Facebook post titled "*Sigh* Reports of Tour Demise Are Greatly Exaggerated," Sarah Palin shares that "even former governors get called up for jury duty" every so often and that, once again, the silly old lamestream media has gotten it wrong where the future of her bus tour is concerned.
Writes Palin:
Imagine our surprise when reading media reports today that the "One Nation Tour" has been cancelled. Why didn't anyone tell me? Oh, wait, that's because it hasn't been cancelled. (Good ol' media… you never cease to amaze!)

As I said myself at the end of the east coast leg of the tour, the summer is long, and I'm looking forward to hitting the open road again. The coming weeks are tight because civic duty calls (like most everyone else, even former governors get called up for jury duty) and I look forward to doing my part just like every other Alaskan.

I wouldn't think it to be such a slow news day that, what with numerous wars and serious economic woes concerning Americans, a bus is driving news stories today. The next leg of the tour continues when the time comes. In the meantime, no one should jump to conclusions – certainly not the media with their long track record of getting things wrong or just making things up.

– Sarah Palin
One factor contributing to misleading or outright incorrect reports about Palin is the reality that she mostly refuses to speak to reporters unless the interaction is on her own terms, eschewing most outlets in favor of participating in interviews with, say, Fox News' Greta Van Susteren or Real Clear Politics – in other words, with those who won't necessarily challenge her or, depending on which side of the fence you're sitting, attack her.
In the process, some news outlets are left to either speculate about Palin's plans or refer to unreliable sources, which can and does result to incorrect information. And that certainly benefits Palin, because it reinforces her purported mistrust of the media and her belief that, in many cases, members of the media are less than competent and/or present a clear bias against her.
You can't play with Sarah, guys, She'll win every time.
h/t Facebook
Have a tip we should know? tips@mediaite.com