Sarah Palin's Secret Plan to Adopt Her Grandchild! And Other Levi Johnston Revelations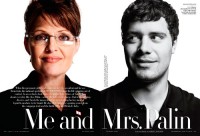 Perhaps in lieu of a well-followed Facebook page, Levi Johnston chose to take his story about life with the Palins to the once-powerful pages of Vanity Fair. Earlier this week a preview of the October issue went online, and last night VF opted to make excerpts of Johnston's 'Me and Mrs. Palin' piece available online, though just enough of it to whet your appetite (maybe VF is finally figuring out the internets!).
In the article Johnston discloses a number of juicy tidbits including the fact Sarah Palin doesn't cook and that the kids were often left to fend for themselves (welcome to modern-day America!). However it's this quote about Palin's reaction to Bristol's unplanned pregnancy that will no doubt set tongue's wagging and issues flying off the stands (or at least moving a bit more quickly):
Sarah told me she had a great idea: we would keep it a secret—nobody would know that Bristol was pregnant. She told me that once Bristol had the baby she and Todd would adopt him. That way, she said, Bristol and I didn't have to worry about anything. Sarah kept mentioning this plan. She was nagging—she wouldn't give up. She would say, "So, are you gonna let me adopt him?" We both kept telling her we were definitely not going to let her adopt the baby. I think Sarah wanted to make Bristol look good, and she didn't want people to know that her 17-year-old daughter was going to have a kid.
Alert the Trig birthers! How much of this story is true remains to be seen. It's entirely possible that Johnston is just picking up where Andrew Sullivan left off and building on the conspiracy theory that Trig is also actually Bristol's child and that Palin planned to convince the press Trip was also hers to protect her daughter.
Of course, the fact that Trig was born on April 18, 2008 and Trip (Bristol and Levi's child) was born on December 27, 2008 sort of makes either storyline biologically impossible, not to mention, should Palin actually have attempted to pull it off, unlikely to fool the press during a presidential campaign. Unless! Maybe Palin was planning on telling people they had adopted Trip from another family? The head explodes! Maybe VF will provide some sort of flow-chart. In the meantime all eyes on Sarah Palin's Facebook page for any forthcoming reaction. Also, here's a video of Levi's Vanity Fair photo-shoot.
Have a tip we should know? tips@mediaite.com