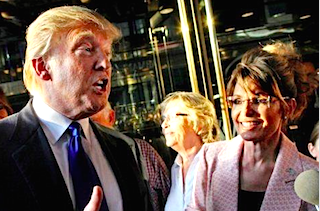 It's really happening. Tonight, Friday, August 28, Sarah Palin will interview GOP presidential frontrunner Donald Trump on One America News Network.
What is OANN, you ask? Well, it's the "fledgeling" conservative news channel that is available on a limited number of cable TV systems and just last week hired Palin to "guest host" its political talk show On Point.
And today, she not only scored an interview with Trump, but will also be speaking to Jeb Bush, who is looking forward to promoting his new e-book to OANN's audience:
Look forward to going on @OANN later with @SarahPalinUSA to talk about my upcoming ebook, Reply All!

— Jeb Bush (@JebBush) August 28, 2015
Meanwhile, Palin appears to be far more excited about the Trump interview, assuring her Facebook fans that she will not be asking the candidate any "gotcha" questions about the Bible.
"WTH? Lamestream media asks GOP personal, spiritual 'gotchas' that they'd NEVER ask Hillary, or they'd feed the question to her and/or liberal cohorts before they asked it on-air (we know how these things work, lapdog media… the public's on to you), so good on Trump for screwing with the reporter," she wrote on Friday, referring to Trump's recent sit-down with Bloomberg's Mark Halperin.
"I'll cover this in my interview with Donald Trump and other candidates tonight on the One America News Network show 'On Point,'" she revealed. "The more the media does this, the more they empower America to reject them and their bias as voters run to the anti-status quo candidates daring to Go Rogue."
As for where you can watch Palin's interview with Trump, OANN is available on Amazon FireTV, Roku and something called KlowdTV, along Verizon FiOS and AT&T U-verse cable platforms in a handful of cities. On Point airs at 10 p.m. ET.
[Photo via Facebook]
— —
>> Follow Matt Wilstein (@TheMattWilstein) on Twitter
Have a tip we should know? [email protected]