Say Goodbye to Fembots; New Campaign Looks to Put a Stop to Robot-Human Sexy Time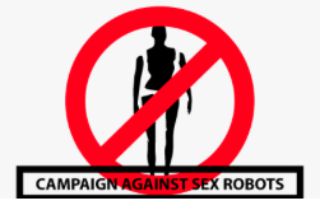 The 2001 film A.I. offered a vision of the future where robots are commonplace, and new artificial intelligences have just been designed with the ability to express love.
Well, as it turns out, if robots do become a regular part of society, there's already a campaign in place to stop people who want to love robots back… in a very specific way.
Dr. Kathleen Richardson, a robot ethicist from De Montfort University in Leicester, U.K. has launched the Campaign Against Sex Robots in order to ban the manufacturing of robots that provide sex-related pleasures to humans. The campaign says that so-called sex robots will reinforce negative perceptions abut women, while causing a general objectifying effect on human interactions.
"We have the real use of women and children in the real world [as sex objects] and this kind of paraphernalia reinforces that message," Richardson told the BBC. "We think that the creation of such robots will contribute to detrimental relationships between men and women, adults and children, men and men and women and women."
Sex dolls are nothing new, but manufacturers like RealDoll and True Companion have pursued the invention of sex robots for reasons ranging from curbing prostitution, to providing interaction for lonely individuals. Even so, the campaign states on their website that these machines will not alleviate these problems, but would only substitute the victims while reducing empathy and equality.
Richardson told CNBC that she initially found the idea to be harmless, but that continued research on the subject suggested they might cause an increase in objectification.
[h/t Gizmodo]
[Image via screengrab]
— —
>> Follow Ken Meyer (@KenMeyer91) on Twitter
Have a tip we should know? tips@mediaite.com