SC Governor Nikki Haley Tells CNN She's 'Terribly Disappointed' In Newt Gingrich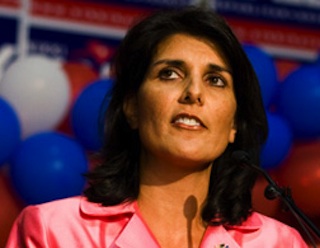 Man, Newt Gingrich must really be regretting that appearance on Meet the Press now. There have been statements from his campaign and a YouTube video all trying to obscure comments he made that sounded to many like an attack on Paul Ryan and a defense of the controversial individual mandate in the health care law. However, it would seem that the nation's powerful conservatives have spoken and they are not happy with the presidential candidate. South Carolina Gov. Nikki Haley has joined the fray using some of the exact same phrasing as Rush Limbaugh in a take down of Gingrich she gave to CNN.
Just like Limbaugh, Haley described Gingrich's comments on Ryan using a "cutting at the knees" metaphor and it didn't sound any nicer the second time:
"Haley, whose promise to endorse a presidential candidate has made her a key power broker in the Republican primary fight, joined in the chorus Tuesday and said she is 'terribly disappointed' in Gingrich.

'What he said was absolutely unfortunate,' Haley told CNN in a phone interview. 'Here you've got Representative Ryan trying to bring common sense to this world of insanity, and Newt absolutely cut him off at the knees.'

'When you have a conservative fighting for real change, the last thing we need is a presidential candidate cutting him off at the knees,' she added."
Ok, make that the second and third time.
The Gingrich campaign team worked quickly yesterday to try to stem a narrative that was instantly being formed after his appearance. However, it looks like those working against the man are setting the narrative down in stone.
Paul Ryan's knees have been cut and Mr. Gingrich was the one doing the cutting.
Have a tip we should know? tips@mediaite.com