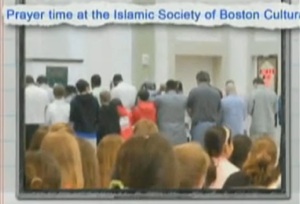 Indoctrination alert! The superintendant of Wellesley Middle School has apologized to parents after a video of a field trip to a Islamic cultural center has surfaced. During the field trip, which was part of a Social Studies unit on different faiths and cultures, a group of sixth grade boys were videotaped joining in with some men in prayer. Americans for Peace and Tolerance (a tolerant group that has an Islamic "Terror Map" on their website) passed out fliers with pictures of the video and an uproar quickly followed.
From Boston's WCVB 5:
A chaperone who was on the trip said the prayer was voluntary.
'They weren't asked to pray. They weren't refused from going in … to observe. You could go in and observe and some kids did sit down. There were some boys who sat behind the men and kind of copied them, but it wasn't like they had to,' said Marijane Tuohy.
Flyers alerting the school community to the incident turned up on cars at a back-to-school meeting at the middle school Thursday night.
In the flyers, an online group called 'Americans for Peace and Tolerance' slammed the school and demanded an investigation into the incident.
Some parents were offended by the group's campaign.
'Here's a group that says 'Peace and tolerance,' and what they're preaching, appears to me, to be hate,' said parent Drew Knowland.
While the situation may seem silly to some (watch out, there's nothing 15 year old boys love more than incredibly strict religious training!) it's less cut and dry than some of the other recent news stories like it. You could be the most tolerant person in the world and still get a little uncomfortable seeing your children seemingly practice a faith that's not your own. That's partly why every school makes sure to have a menorah for every Christmas tree come December and at least one Hanukkah and Kwanzaa song at each Holiday Concert*. And that's fine.
Still though, if a video showed up of some Christian kids trying to decipher the Torah, would Americans for Peace and Tolerance be creating the same furor? Considering the chances are about a thousand times higher that the sixth grade boys were making fun of the praying Muslims rather than contemplating conversion, the whole thing sounds like yet another sign that many Americans just aren't square with that whole Islam thing.
Watch WCVB 5's video report below. Below that is a video that the group made about the incident and the terrifying history of the Islamic cultural center in question.
*Unrelated note, are there no fun Hanukkah songs in existence or was my elementary school's habit of choosing the most dour and unpleasant tunes ever a sign of a secret anti-semitic bias?
Have a tip we should know? tips@mediaite.com