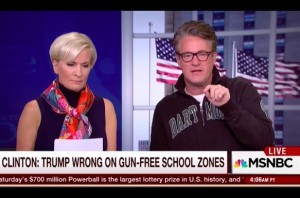 The criticism from Morning Joe cohost Joe Scarborough on Friday morning came on the heels of President Barack Obama's live town hall event on gun safety in America. Scarborough seemed inspired by the President's willingness to take part in a live broadcast where he was faced with a barrage of questions from citizens whose views on guns differed that his own.
Scarborough addressed the camera lens directly to speak to former Secretary of State Hillary Clinton, noting, "We'd like you to have the guts that the President of the United States had last night and invite people who don't believe exactly what you believe so you don't have to walk around a town hall meeting looking like a robot, sounding like a robot."
The harsh criticism continued as Scarborough dug in saying:
"President Barack Obama actually did a real town hall meeting where he talked to real people who actually — oh my god — disagreed with him and he did well. And there was a real debate on guns in America which we have to have."
Cohost Mika Brzezinski sat largely silent during Scarborough's monologue, but did seem to agree. "The president did his job, Hillary I would love to see you do your job," he continued, "…instead of just having your staff tweet it out. Why don't you actually talk to people who disagree with you and get out of your little bubble?… just a radical thought, I don't know."
The happily (sarcastically?) ended the segment with a cheers to "Happy Friday".
[image via screengrab]
—
>> Follow J.D. Durkin on Twitter (@MediaiteJD)
Have a tip we should know? tips@mediaite.com