Scientology's David Miscavige Desperately Tries to Prevent Father From Releasing Tell-All Book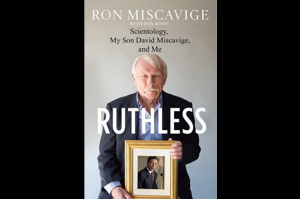 Fans of the HBO documentary Going Clear from director Alex Gibney will recall many of the shocking allegations lobbied against the church of Scientology and its leader David Miscavige. Among the most revealing details in the film include stories of abusive work conditions within the church, the acts of bullying to ensure members were coerced into silence, and the unofficial prison system for the church known simply as "the Hole."
Fans may also remember news that after the Gibney project debuted, David Miscavige's father Ron announced plans to write a tell-all book, at the time titled If He Dies, He Dies, a reference to a line uttered by the son about his frail father while he was being watched by Scientology surveillance.
The book, which is set to be released next week in the UK, is now called Ruthless: Scientology, My Son David Miscavige, And Me, and the younger Miscavige — whose title is Chairman of the Board of the Religious Technology Center — is threatening a defamation lawsuit against his own father if the book is published.
Johnsons Solicitors is the influential law firm represented David Miscavige in the effort, now warning Silvertail Books not to move forward with publishing. The "eleventh-hour attempt" by the younger Miscavige and his lawyers read in part:
"You are now on notice of the highly defamatory content of the subject book. Accordingly, in the event that you proceed with the release of this book, in total disregard for the truth, our client will be left with no alternative but to seek the protection of UK/Irish defamation and other laws."
Ruthless is set for US release soon. The book largely chronicles exactly how David Miscavige became obsessed with Scientology at the age of 15, and how he "seized power" from founder L. Ron Hubbard. David Miscavige's wife Michele has famously not been seen in public since August 2007; however, the Los Angeles Police Department has confirmed her safety in the years since people filed missing persons reports to determine her exact whereabouts.
The Friday's 20/20 on ABC will largely cover the church of Scientology as well as the new book from the elder Miscavige. As for the threats that have emerged from within the church in response to Ruthless?
"My plans for the book haven't changed at all," said the father in a statement Wednesday.
—
J.D. Durkin (@jiveDurkey) is a columnist at Mediaite
[images via Wikipedia Commons]
Have a tip we should know? tips@mediaite.com