Scott Walker's Wife: 'Our Sons Were Disappointed' by His Gay Marriage Remarks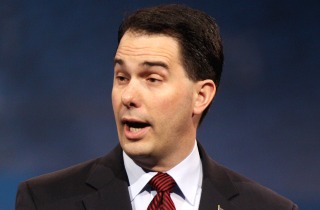 This weekend, The Washington Post put out a profile of Tonette Walker, the wife of Wisconsin governor and expected presidential candidate Scott Walker, in which she opens up about their family life and how they all differ on politics.
For one, Walker says, she doesn't agree with her husband all the time, "ut most of the time things work out a lot better than I think they will."
Gay marriage in particular is an issue where the family has clear differences. After the Supreme Court ruled in favor of nationwide same-sex marriage, Walker put out a statement calling that a "grave mistake" and called for a constitutional amendment to allow states to ban it if it's the will of the voters.
And as Tonette Walker reveals, her sons Matt and Alex weren't terribly happy about their father's statements.
She explains, "That was a hard one. Our sons were disappointed… I was torn. I have children who are very passionate [in favor of same-sex marriage], and Scott was on his side very passionate."
When Walker was asked months ago about attending the gay wedding of a loved one, Walker said that he did attend a wedding reception for a gay couple he knew, but not the ceremony. This was the wedding of Tonette Walker's cousin, and Walker tells WaPo, "It's hard for me because I have a cousin who I love dearly — she is like a sister to me — who is married to a woman, her partner of 18 years,"
You can read the full WaPo profile here.
[h/t HuffPost]
[image via Gage Skidmore]
— —
Follow Josh Feldman on Twitter: @feldmaniac
Have a tip we should know? [email protected]
Josh Feldman - Senior Editor