Sean Hannity: I've 'Evolved' On Immigration Reform, Support 'Pathway To Citizenship'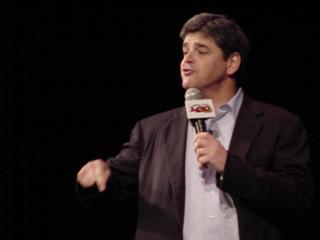 During his radio show on Thursday, Fox News host Sean Hannity said his position on immigration reform has "evolved," noting that he supports a "pathway to citizenship."
Underscoring that the "Hispanic vote went 70 percent Democrat," Hannity said the Romney/Ryan ticket was "crushed" in the demographic. "There is a fundamental shift going on," he said, adding the need to take the immigration issue off the table.
"We've got to get rid of the immigration issue altogether," he said. "It's simple to me to fix it. I think you control the border first. You create a pathway for those people that are here. You don't say you've got to go home. And that is a position that I've evolved on. Because, you know what, it's got to be resolved."
He further elaborated:
"The majority of people here, if some people have criminal records you can send them home, but if people are here, law-abiding, participating for years, their kids are born here, you know, it's first secure the border, pathway to citizenship, done, whatever little penalties you want to put in there, if you want, and it's done."
The position is a notable change for Hannity, who has previously spoken out against the DREAM Act, characterizing it as "amnesty." The legislation has faced opposition from most Republicans — and it June, President Obama bypassed Congress altogether, taking executive action to stop deportation of young undocumented immigrants who came to the United States when they were under 16 (and are currently under 30).
Listen to Hannity's remarks, below:

Have a tip we should know? tips@mediaite.com